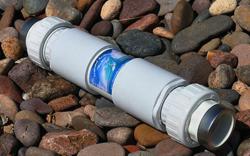 I created a machine whose working parts are made of water. It is a machine of water that works at the molecular level to allow water to refresh and clean itself.
Camp Verde, AZ (PRWEB) September 27, 2012
After decades of research, inventor Clayton Nolte has developed an effective new way of purifying water using nature's design to create structured water. The device is called a Natural Action Structured Water Unit and it can be found at StructuredWaterUnit.com. The importance of water is unquestionable. Water is one of the most used resources in the world. All living beings depend on it one way or another. Therefore, having access to good water is essential.
The Natural Action Structured Water Unit is very simple yet impressive technology that uses vortex science, utilizing the dynamic characteristic of water and geometric structures that allow the water to work upon itself on the molecular level. This "natural action" alters the molecular structure of the water activating and retaining the healthful benefits of minerals and other characteristics. Some unique qualities about this product is that it doesn't use any moving parts or chemicals and it requires no replacement parts. This could potentially save the consumer lots of money considering how much it can cost to replace water filter cartridges each year.
In the world of water purification structured water is water that has been purified energetically in order to neutralize toxins and create balanced water. Water in nature is usually structured. That's where the inspiration for most water structuring devices comes from. As water runs through nature, it spins around corners and curves and this spinning creates a vortex, which structures the water.
Water filters, distillation and reverse osmosis have all been effective up to a point but as more science about water is discovered people are coming to realize that these devices may not be enough. This water usually isn't structured and most likely it has been depleted of beneficial minerals. If the human body does not get the minerals it needs, it may not function at its highest potential.
Another name for structured water is "liquid crystalline water". Water's similar communicative properties to quartz, a crystal, make it known as a liquid crystal, indicating that water has memory and can hold both healthy and harmful energetic patterns. When water is recycled without letting it go through nature's cleansing cycle of evaporation, rain and flowing in streams or through a water structuring device like a Natural Action Structured Water Unit, it could still contain energetic pollution.
Studies using a Gaseous Discharge Visualization (GDV) machine show that running water through a Natural Action Structured Water Unit will also increase the biophotonic energy in water. Structured water has also been verified by spectroscopy, x-ray diffraction, electron microscopes, computer simulation models, and scanning tunneling microscopy.
Researchers are also finding that cells absorb structured water better than unstructured water. A person drinking unstructured water can still be dehydrated because the water molecules that have not been structured are much too big for cell absorption.
Peter C. Agre, a 2003 Nobel Prize winning biologist, discovered that hydration is linked to the aquaporin channel in a cell, which can only receive one water molecule at a time. The Natural Action Structured Water Unit has the ability to break water clusters down to one molecule, allowing for better hydration for humans, animals and plants.
Farmers farming with structured water are also saving money using less water on plants and because their livestock is healthier they might not require the usual expensive doses of antibiotics. Along with this, both small and large scale vegetable and fruit growers report improvements in growth and nutrient density.
In talking about the nutrient quality measured by a refractometer, strawberry farmer Joe Johnson had this to say about a particular parcel of land he farmed with structured water from a Natural Action Structured Water Unit, "This is a plot that has been separated and only watered with structured water once so the one time that it was watered by structured water, this field has jumped by 20%."
The Natural Action Structured Water Unit comes in a variety of sizes including commercial, whole house, under sink, shower, garden and portable. It also comes in two different configurations: basic or dynamically enhanced.
Because his technology allows water to work upon itself, Clayton Nolte has this to say about his device, "I created a machine whose working parts are made of water. It is a machine of water that works at the molecular level to allow water to refresh and clean itself. It resembles more a musical instrument than a machine. If we were a water molecule on the path through this device it would be an exhilarating roller coaster ride. We would come out refreshed and ready to perform our life-given roles."