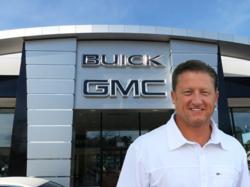 Buick's Best Year Since 2007 in US!
Charlotte, NC (PRWEB) September 26, 2012
Since 2007 Buick has seen sales rise 8 percent year over year, making 2011 the highest sales year since 2007. Buick attributes the success to the release of such reliable and groundbreaking new vehicles as the new Verano compact luxury sedan and the new eAssist technology, included in the most recent model of the Buick LaCrosse.
In addition Buick says recent updates and renovations to Buick and GMC dealerships across the country contributed to the increase in sales. Dealerships all across the country, like Scott McCorkle's Liberty Buick GMC Trucks, have undergone renovations in recent months, and have shown an increase in business.
According to McCorkle, "People are noticing the renovations to the dealership. Many customers are finding out that the new Buick dealerships are nicer looking than local dealerships for other vehicle brands." This adds to the experience for buyers and for service customers.
Customers across the country are trading imported vehicles as they discover the value and luxury provided by an American company like Buick. According to Buick corporate "Buick awareness is on the rise nationwide," as people are re-discovering the brand as a one that represents luxury affordable to everyone.
Buick sales demographics are changing as well. Customers who would not normally fit the profile of a luxury vehicle-buyer are walking into Buick dealerships like McCorkle's and walking out with new Buicks. Buick is finding an increase of recent college graduates and others finding Buick to be an affordable luxury option.
This August's sales gains stayed between 8 and 28 percent in many cities. More customers are opting to lease Buicks as well, possibly because of the new Experience Buick leasing program that was introduced in March. The Experience Buick program provides customers with a 24-month lease that includes impressive features such as the Sirius XM satellite radio, OnStar Directions and Connections, and even regular oil changes.
"With updated facilities, strong leasing options, and a young, growing product line, Buick is a healthy, modern luxury brand," said Brian Sweeney, vice president of Buick Sales and Service. "As a result we're seeing more young, affluent car buyers coming in to test drive a Buick."
In addition to the yearly increase in sales for all Buicks, there is an increase in sales of the Verano luxury compact vehicle. In the nine months since its release, the Verano sedan has steadily increased in sales. August was also the highest sales rating for the Regal GS sport sedan since its introduction late last year.
Other models like the Enclave luxury crossover SUV experienced sales gains and sales are expected to increase as the new 2013 Enclave, featuring the first front center airbag system, is introduced to the market later in 2012.
In the market for a great new vehicle? Now's the time to buy and Buick is a great bet. Come on down to Liberty Buick GMC Trucks and test drive a great new car or truck today. Check out the website at http://www.clickliberty.com or give them a call at 844-442-