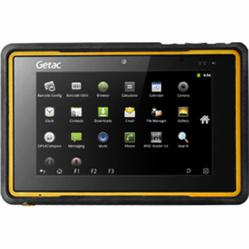 With the new E110 and Z710, Getac has designed tablets to perform and exceed the demands of users in field service sectors that require mobile communications and data capture devices to operate in tough environments
Chandler, AZ (PRWEB) September 26, 2012
Group Mobile, well known for carrying the top brands in rugged devices including laptops, tablet PCs, PDAs, and handheld computers has recently extended its product offerings to include the newest rugged tablet computers from Getac. The Getac E110 and Z710 fully rugged tablets are designed to meet the needs of field and customer service applications. The Getac E110 is built around a large 10-inch widescreen display and is powerful enough to run Windows 7. The compact and powerful Getac Z710 tablet features a 7-inch touch screen display and is powered by the Android operating system.
"With the new E110 and Z710, Getac has designed tablets to perform and exceed the demands of users in field service sectors that require mobile communications and data capture devices to operate in tough environments," said Stephanie Kreitner, marketing director for Group Mobile. "We are excited to offer these new Getac tablets and expect them to appeal greatly to the growing needs of our highly mobile customers."
"We are thrilled that Group Mobile has expanded their offerings to include our new E110 and Z710 rugged tablets," says Scott Shainman, director of channels, Getac. "The combination of Getac's rugged and reliable tablets, along with Group Mobile's rugged computing expertise and customer knowledge, will allow the companies to increase tablet adoption in rugged markets."
The Getac E110 is a Windows-based tablet that weighs just under 3.5 lbs and has a 10.1-inch HD sunlight readable touch screen display. It meets military standards for durability and protection against dirt, dust, water, motion, vibration, temperature and other factors that would quickly damage or disable a commercial-grade tablet computer. The E110 incorporates a host of new and improved technology and performance features including a fast, Intel® Atom™ N2800 1.86GHz processor, embedded LifeSupport™ backup battery to support hot-swapping, and it runs Windows 7 Professional for immediate deployment with existing software platforms. The E110 also provides a long list of connectivity options including: RS-232 Serial port, two USB ports, smart card readers, contactless high frequency RFID reader, Bluetooth 4.0, and 3G Network connectivity for those who need wireless in the field. In addition, the Getac E110 comes with a 5-year bumper-to-bumper warranty. To learn more about the Getac E110, visit http://www.groupmobile.com/product.asp/sku=6148.
Additionally, Group Mobile is now offering the new Android-powered Getac Z710 rugged tablet. The Z710 is perfect for data collection, data entry, PDF viewing, GPS tracking and much more. Weighing only 1.8 lbs., it features a 7-inch sunlight-readable display with durable Gorilla® Glass, and is both MIL-STD-810G and IP65 certified for durability. The Getac Z710 also has a variety of built-in communications options including: WiFi, Bluetooth, 3G, and RF pass- through SiRFstar GPS for pinpoint location accuracy, an HD webcam, and a 5MP still camera. The Getac Z710 is backed by a 3-year bumper-to-bumper warranty. To learn more about the Getac Z710, visit http://www.groupmobile.com/product.asp/sku=6192.
To learn more and order Getac rugged computers, visit http://www.groupmobile.com/brand.asp/mf_id=5/Getac.html, or call toll free 866-784-4338.
About Group Mobile
Headquartered in Phoenix, AZ, Group Mobile serves customers all over North America. Customers range from Fortune 500 companies and the U.S. Military, to local police/fire/ambulance, to small and mid-size businesses, to the frequent traveler that needs something more durable than a commercial, off-the-shelf computer. Group Mobile carries the leading rugged computing brands. In addition, Group Mobile offers vehicle docking and mounting equipment from Gamber Johnson, Ram Mounts, and Havis/Ledco. To learn more about rugged computers and how they differ from commercial, indoor computers, check out the Rugged Computer Guide or visit us online at http://www.groupmobile.com.
About Getac
Getac, Inc., is a wholly owned subsidiary of Getac Technology Corporation, which is a key subsidiary of MiTAC-Synnex Business Group (2011 consolidated revenue 25.3 billion USD). Getac was established in 1989 as a joint venture with GE Aerospace to supply defense electronic products. Today, Getac's business includes rugged notebooks, rugged tablet PCs and rugged handheld devices for military, police, fire, utility, insurance and field service customers. For more information, visit us.getac.com or follow us on twitter @GetacUS.