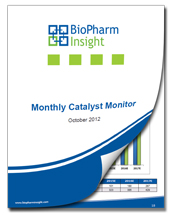 Norwood, MA (PRWEB) September 26, 2012
BioPharm Insight's monthly Catalyst Monitor analyzes the most material events in the sector during the upcoming month. The Catalyst Monitor tracks significant events and announcements such as FDA approvals, Advisory Committee (AdCom) meetings and expected key clinical results. To access the entire 58-page report, featuring proprietary investigative journalism relevant for each profiled event, sign up for a free demo or trial of BioPharm Insight.
The Catalyst Monitor for October 2012 highlights United Therapeutics' action review date on October 27 for oral Remodulin. While the drug had positive results in an earlier monotherapy study in pulmonary arterial hypertension (PAH), physicians are disappointed with the results from a combination therapy trial, which is the more likely setting for the drug's use.
Aegerion Pharmaceuticals and Isis Pharmaceuticals will both likely see FDA approval for their homozygous familial hypercholesterolemia (hoFH) candidates. Aegerion's lomitapide will compete with ISIS' Kynamro (mipomersen), but the fatty liver risk associated with lomitapide may lead to stricter FDA monitoring requirements compared to mipomersen. An AdCom will review lomitapide on October 17 and mipomersen on October 18.
Also positive on the FDA approval front is NPS Pharmaceuticals' prospects for Gattex (teduglutide) in short bowel syndrome (SBS) despite a three-month review delay. If approved, rigorous post-marketing surveillance studies and physician education programs will most likely be requested to settle lingering cancer concerns. An AdCom meeting is scheduled for October 16.
Additional drugs covered in this report include:

GlaxoSmithKlines' Votrient
Vertex Pharmaceuticals' VX-809 and Kalydeco
Sarepta Therapeutics' AVI-4658
Supernus Pharmaceutical's SPN-804 and SPN-538
Impax Laboratories' IPX066
Eisai's Fycompa
Actelion's Macitentan
Cornerstone Therapeutics' lixivaptan
Map Pharmaceuticals Levadex
About BioPharm Insight
BioPharm Insight is the definitive guide to the global biopharma community. BioPharm Insight provides clients with an information edge by combining the most comprehensive real-time database of companies, drugs, contacts, M&A and licensing deals, forecasts and clinical trial data with proprietary forward-looking intelligence uncovered by an independent team of investigative journalists months or even years before it breaks in mainstream media. To learn more, visit http://www.biopharminsight.com.
About Infinata, Inc.
Featuring a comprehensive BioPharm Solutions Suite, unique Wealth Prospecting tools and innovative Custom Data Services, Infinata provides personalized technology solutions to turn information into insight. Infinata is a part of Mergermarket, a Financial Times Group company and a division of Pearson plc. To learn more, visit http://www.infinata.com.