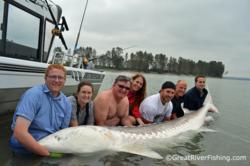 The group was stunned to discover that the sturgeon was 11 feet, eight inches long!
Vancouver, BC (PRWEB) September 26, 2012
There are few people on this planet who can honestly say that they have successfully fished for and caught (and released) a creature that dates back to dinosaur times! Not to mention one that weighs 1000 pounds! On September 21, 2012 a group out for a fishing trip with Great River Fishing, near Chilliwack on the Fraser River, were treated to a serious workout when they hooked a sturgeon that weighed five times more than the angler trying to land it! When measured, the group was stunned to discover that the sturgeon was 11 feet, eight inches long and had a massive five foot girth! This is the second monster sturgeon recorded on the Fraser in the past few months. Back in July a visiting couple from England broke records when they reeled in an 1100 pound sturgeon.
Considered the dinosaur of fish due to the fact the species has survived virtually unchanged for 65 million years, white sturgeon can live well over 150 years and can grow to over 6 meters in length (the size of a school bus)!
According to The Fraser River Sturgeon Conservation Society, "The white sturgeon is the largest and longest-lived species of freshwater fish in North America. The ancient fish is at the top of the Fraser River food web, and one of the few year-round resident species of fish in the lower Fraser River. The population of white sturgeon in the lower Fraser River (downstream of Hell's Gate) is a fraction of its historic levels." Much work is being done to aid in the recovery of this amazing fish and since 1994, the fishery has been strictly catch & release. Many outfitters on the river participate in the study of the fishery by tagging the fish and reporting data.
Last year, 604 Pulse contributing writer, Robyn Hanson, enjoyed a day of sturgeon fishing, with a little marine biology thrown in for good measure and blogged about it for 604 Pulse.
About Vancouver, Coast & Mountains: Vancouver, Coast & Mountains, one of six tourism regions of Super, Natural British Columbia, includes four destination areas: Metro Vancouver, Sea to Sky Country, Mighty Fraser Country, and the Sunshine Coast. This non-profit society is governed by a private sector board of directors who represent business and community tourism interests from throughout the region. VCMBC works with Tourism British Columbia to utilize their combined resources and provide greater benefits to the provincial tourism industry through an integrated web presence. For more information about Vancouver, Coast & Mountains visit our website or call 604-739-9011.