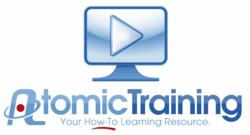 Little Falls, MN (PRWEB) September 26, 2012
Atomic Training has recently released training on the new Microsoft Office Web Apps and Microsoft Office 365. With these new training series, you can learn how to start utilizing these tools anytime and anywhere using your favorite Web browser.
Atomic Training has developed two Microsoft Office 365 training series. One focuses on the basic user's perspective and how they can collaborate, create and store information all from using just their web browser. The second series focuses on the administrative features Microsoft Office 365 provides. Learn how to manage users and domains, define settings for Outlook® and Lync®, and even manage your company's SharePoint® Site. For more information on how you can utilize these web applications even more, view the new Microsoft Office Web Apps training series.
Atomic Training has also added several other new training series to their online collection. Other software applications featured include Illustrator CS6, Mac OS X 10.8 (Mountain Lion) and more. Atomic Training strives to bring users the latest training for all of their software related questions.
For more information contact:
Clay Moore
866.259.6890 Ext. 221
cmoore(at)atomictraining(dot)com
About Atomic Training:
Atomic Training provides on-demand software training and support tutorials to help businesses and organizations fulfill staff technology training and development goals. Atomic Training was established in December 2010 as a division of, parent company, Atomic Learning. Atomic Learning has been providing high impact e-Learning solutions for more than ten years to 16 million users in 45 countries.