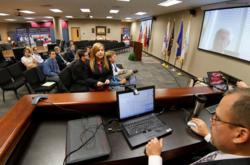 Lynchburg, Va. (PRWEB) September 25, 2012
Former Speaker of the House Newt Gingrich delivered a simulcast lecture exclusively for Liberty University residential and online students Tuesday morning at Liberty's Helms School of Government.
Through WebEx technology, Gingrich spoke about American Exceptionalism from his wife's office in Atlanta, Ga., to 12 students in Lynchburg, Va., and 14 online students all over the country.
Associate Professor Dr. Kahlib Fischer organized the cutting-edge meeting for his online course Government 329 "American Exceptionalism. Much of the course is based on Gingrich's book "A Nation Like No Other: Why American Exceptionalism Matter." Residential government students were invited to participate in Tuesday's class.
Fischer said he has used WebEx for faculty meetings in the past, but this was his first time using it for a simulcast lecture.
"WebEx is a practical environment for teaching because it allows us to link up with busy and prominent individuals like Gingrich," Fischer said. "It is also very personal because it allows the speaker to connect with the students in a more intimate and informal way. Technology made it personal for everyone involved."
After Gingrich gave about a 30-minute lecture, he took questions from students, alternating with residential and online.
Whitney Rutherford, a junior studying western legal traditions and journalism, said it was fascinating to interact with Gingrich and hear his point of view.
"I think it was interesting to do this type of simulcast because it was casual, informal and conversational," she said.
Gingrich has visited Liberty several times to speak at Convocation and delivered the May 2007 Commencement address, but this was his first experience as a visiting professor. Fischer said it was his first time talking to Gingrich and he hopes to have more simulcasts.
"Gingrich has a heart for students because he knows they are the next generation. You can tell he has the heart of a professor in him and he delights in teaching and mentoring," Fischer said.
Liberty University, located in Lynchburg, Va., is the world's largest Christian university. Nearly 100,000 students attend classes on its 6,800-acre residential campus and study in its thriving online education program.