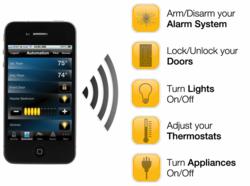 ADS is proud to offer a home automation service from a company that has always had safety and security as its primary focus
Nashville, TN (PRWEB) September 26, 2012
ADS Security (ADS), a local security company, has merged their primary service, home security, with home automation to offer a new high-tech home control system service with security at its core. ADS Home Control delivers home security and home automation packaged together and remotely managed from anywhere on a mobile device.
"ADS is proud to offer a home automation service from a company that has always had safety and security as its primary focus," said ADS President and COO, John Cerasuolo. "ADS Home Control merges seamlessly with our core business, home security, to offer an ideal home management experience."
ADS Home Control saves homeowners time, money and energy by allowing them to manage their home when it's convenient for them. Whether at home or away, residents can arm or disarm their security system, lock or unlock doors, and adjust lights, thermostat and small appliances. Home control systems help reduce energy bills by letting homeowners make instant adjustments to the thermostats and lights. Automatic adjustments can also be set by customizing home control schedules.
Home Control systems are easily and securely managed away from home with the ADS Aniware® mobile app, available for download on an iPhone®, Android® or Blackberry®. The app allows homeowners the freedom to instantly manage home activities from anywhere like turning down the thermostat, disarming the alarm and unlocking the door, dimming the lights, or turning off the television.
Homeowners stay informed with email or text alerts that notify them of events at home like family member arrivals, alarm activation or temperature change. In the case that an ADS Home Control alarm is activated, homeowners are alerted and a signal will be sent securely to ADS' CSAA Five Diamond certified Monitoring Center.
To learn more about ADS Security and ADS Home Control, please view our flyer and video or visit adssecurity.com.
About ADS Security
Headquartered in Nashville, Tennessee, ADS Security (ADS) is ranked the 23rd largest electronic security firm in the nation according to the 22nd annual Top 100 rankings compiled by Security Distributing & Marketing (SDM), a leading industry publication. ADS is the only Tennessee-based company to hold a position among SDM's prestigious top 25 slots and has ranked in the Top 100 for more than 20 consecutive years.
ADS was established in 1990 and currently serves over 70,000 businesses, industrial facilities and residences throughout the southeastern United States. ADS provides a full range of burglar and fire alarms, as well as video surveillance and access control systems.
ADS Security is the only security installation company to operate a UL-listed1, CSAA2 Five Diamond Monitoring Center in Middle Tennessee. Each Monitoring Center Operator at ADS has earned the Five Diamond Central Station Certificate, the highest training certification available in the industry.