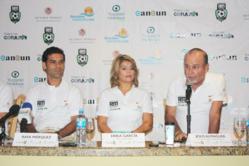 This effort is a part of the program "Vacaciones Inolvidables" that started last year and gives the foundation a percentage from the sales of vacation packages.
Cancun, Quintana Roo (PRWEB) September 27, 2012
The hotel chain Sunset World Resorts & Vacation Experiences announced today the launch of the program "Viajero con Corazón" so that tourists who are visiting the Caribbean can donate and help support a good cause.
This new program joins the international campaign "Vacaciones Inolvidables" which was started one year ago by Sunset World through Yucatán Holidays and Fundación Rafa Márquez. A percentage from the sales of vacation packages goes to projects that help Mexican children in need.
"We are pleased to help an initiative, lead by Rafa Márquez, bring wellness and hope to those who need it the most," said Erika García, CEO of Yucatán Holidays, who also stated that as a part of the program "Viajero con Corazón," the six Sunset World hotels will function as donation centers for tourists, employees and members of the general public who want to contribute to the foundation through credit, debit or cash. Promotional material for "Viajero con Corazón" can also be found at all six hotels, along with bank terminals provided by the foundation.
The Fundación Rafa Márquez "Futbol y Corazón" is a nonprofit organization whose objective is to help kids from low-income areas. The "NED" program (which stands for "Nutrition, Education, Sport") along with other health programs help more than 700 children in the three Rafa Márquez Children Centers, located in Tonalá, El Salto and Zamora. Through the program "Viajero con Corazón," these centers will continue to promote the development of underprivileged children and improve their quality of life.
The ex-captain of Mexico's National Soccer Team and current defender of the MLS' New York Red Bulls thanked the group for joining his cause to promote nutritional, educational and sporting campaigns for the children of México.
"I am very thankful for everything we have achieved with the support of Sunset World, an alliance that I'm sure will keep generating great benefits for children all over México," said the former FC Barcelona defender.
In August 2011,Yucatán Holidays and Fundación Rafa Márquez launched their international campaign in México, the US and Latin America. Participants are offered the opportunity be a part of an experience of social wellness that "Futbol y Corazón A.C." is working hard to promote.
Quality nutrition is a key part in improving physical and intellectual performance. The Rafa Márquez Children Center provides important tools to reduce school dropouts and promote sports and physical fitness as an essential element in human development, fostering teamwork, discipline and integrity.