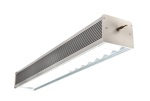 Houston, Texas (PRWEB) September 26, 2012
One Stop Green has released a comprehensive catalog for its ActiveLED lighting fixtures. The catalog features each type of light and the many options available for each fixture. The One Stop Green catalog for ActiveLED lighting compiles all the information and specifications for ActiveLED lighting in one place .
ActiveLED lights can help business owners save as much as 95% on Energy Cost. Each light is made in America, specifically in Georgetown, Texas and comes with a warranty performance, which guarantees an extremely long life cycle. While other competitors can only estimate energy savings and ROI numbers, the quality and technology behind ActiveLED products allow One Stop Green to quantify your exact savings and is even guaranteed to deliver. The patented design produces a brilliant white light with fewer watts making it the most efficient canopy light on the market delivering immediate savings derived from energy and maintenance costs. One Stop Green offers ActiveLED Street lights and even offers various other LED lights for exteriors, commercial office, commercial retail and manufacturing, and even grow lights.
One Stop Green, LLC facilitates environmentally friendly improvements to residential and commercial properties through distribution of green, energy efficient products and services. They offer every product needed for sustainable energy independence enabling homeowners, businesses and commercial property owners to master their usage by reducing waste and implementing efficient energy consumption methods. Their goal is to provide user friendly and practical long-term solutions to existing inefficiencies and their carefully selected products and professional installers offer a higher level of satisfaction and service for their customers.
Contact:
Nathan Kaufman
http://www.OneStopGreen.com
P: 877.449.9110|O: 713.541.2739|C: 210.846.5900