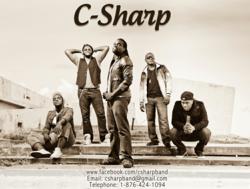 Ground Breaking Music
Kingston, Jamaica (PRWEB) September 27, 2012
Reggae has taken on new meaning with the released of C-Sharp's second album titled "The Invitation". The album has been receiving positive feedbacks from industry personnel, Radio DJ, and music lovers around the world.
David Rodigan's of Kiss FM in the UK had this to say of the album, ("The Invitation" album is undoubtedly one of the finest, most original debut albums to ever come out of Jamaica. I say this as a result of having listened closely to it over a number of weeks now and it just gets better and better. Soulful and rootikal, magnificent arrangements and superb mixing with some truly memorable songs. I wish you every success in your musical journey. You make reggae music proud!)
The album features collaboration with the Famed Third World on the track "Better Day Coming" and also with Busy Signal on the title track, a reggae remix of John Legend's "Let's Get Lifted" and Heptones "Book of Rule" along side nine other original tracks.
C-Sharp now gives true music lovers internationally a chance to enjoy this album. The album is available for download on iTunes worldwide as well as via C-Sharp's store on Reverbnation. The Band recently released their video titled "Somewhere " which can be seen on youtube.
Get to know more about C-Sharp by visiting their facebook page and becoming a fan, subscribe to their and also follow the Band on twitter.