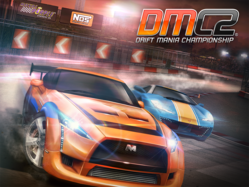 "With millions of players worldwide, we received tons of feedback over the past two years. After a year of development, we are now back with the ultimate drift game available for any gaming platform." says Ratrod Studio's President Pat Toulouse
Ottawa, ON (PRWEB) September 28, 2012
Ratrod Studio Inc. proudly announces the arrival of its latest mobile racing game, Drift Mania Championship 2, on iOS and Android. A sequel to the over 10 million player strong Drift Mania franchise, Drift Mania Championship 2 delivers the ultimate drift racing experience with highly addictive gameplay and next generation graphics. Speeding through a series of lifelike raceways, Drift Mania Championship 2 challenges players' combined driving skills, style, and showmanship in a series of epic racing tournament. Speed, talent, and style, Drift Mania Championship 2 is all about loss of the rear wheel traction while keeping the race car in total control.
Developed in collaboration with DMCC, the only professional drifting series in Canada, and officially sponsored by NOS Energy Drink, Drift Mania Championship 2 tests players' drifting expertise against the four main criteria of speed, line, angle, and impact. Players can qualify on the podium to unlock different circuits and cars and upgrade their ride by installing aftermarket performance products from licensed brands including Royal Purple, K&N, Magnaflow, Centerforce, Whiteline and Mishimoto. Featuring a soundtrack from A'n'R Music Limited that includes songs from Templeton Pek and KNGDMS, players can also listen to songs from their own music library as they take the lead and cross the finish line.
"With millions of players worldwide, we received tons of feedback and suggestions over the past two years. We listened to all our fans and took everything in consideration when designing this sequel. After a year of development, we are now back with the ultimate drift game available for any gaming platform," says Ratrod Studio's President Pat Toulouse.
Drift Mania Championship 2 is available for the iPhone, iPad, and iPod Touch on the iTunes App Store for $1.99 at: http://itunes.apple.com/app/id537695621?mt=8
Drift Mania Championship 2 for Android is available on Google Play for $1.99 at: https://play.google.com/store/apps/details?id=com.ratrodstudio.driftmania2
A Windows 8 Store App version will also be available by the end of October.
Drift Mania Championship 2 Features:

13 vehicles with fully customizable controls, a virtual steering wheel mode, gyroscope support and the ability to adjust and reposition any elements
Become a Drift Mania Champion by completing the career mode which includes over 13 drift circuits and 60 achievements
Try out extensive customization modes for vehicles including body kits, custom wheels, window tints and spoilers as well as the ability to adjust different aspects of racing car including the suspension damping, steering sensitivity, gear ratio and weight distribution
Compete in a drift battle tournament to race in tandem against an opponent
Android version also includes support for the popular Sony Xperia Play and for the upcoming MOGA controller developed by PowerA which won the "Best Hardware" award at the E3 2012
Share and brag using social media platforms including Facebook and Twitter
More details about Drift Mania Championship 2 can be found on the official website at http://driftmania2.com.
Screenshots:
http://ratrodstudio.com/games/driftmania2/DMC2.png
Trailer:
http://www.youtube.com/watch?v=Z3FbBN7C0P4&hd=1
About DMCC
Drift Mania's mission is to promote drifting to people who are passionate about racing, extreme sports and modified cars. In the safest of environments, Drift Mania aims to provide fans with an amazing experience showcasing the best drifters fighting for the title of Drift Mania Champion. The popularity of the sport is experiencing growth like no other sport in the world.
(Website: http://www.dmccdrift.com/)
About Ratrod Studio Inc.
Ratrod Studio Inc. develops video games for mobile devices including iPhone, Android, handheld devices, game consoles and personal computers. With the mobile gaming space constantly expanding, Ratrod Studio has already reached over 15 million users for their games across all platforms. Ratrod recently moved their company headquarters to a new office space located in Gatineau, Quebec earlier this year. Due to a large demand, the company is already planning to open a second studio in the upcoming months. Ratrod Interactive will focus exclusively on client-based video game development and provide multi-platform solutions for both the entertainment and advertising fields.
(Website: http://www.ratrodstudio.com/)