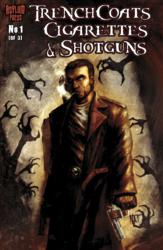 "I'm really excited to be working with Chuck brown and Philipp Neundorf to publish this exciting action packed story, "- Publisher Frank Forte
Los Angeles. CA (PRWEB) September 27, 2012
Frank Forte announces that Asylum Press will publish Trenchcoats, Cigarettes and Shotguns, as a "digital first" three issue comic book mini-series written by Chuck Brown (Rotten Apple, Dark Horse Presents, 1000 Ways To Die) and illustrated by Philipp Nuendorf.
Trenchcoats, Cigarettes and Shotguns will be available on Comixology, Comics Plus (Iverse), Graphicly and MyDigitalComics.com. The digital comic will also be available as a stand alone ebook on KindleFire, Nook, Kobo, Ibookstore, and Googlebooks.
Trenchcoats, Cigarettes and Shotguns #1,#2 and #3 are all currently available for digital download.
Trenchcoats, Cigarettes and Shotguns preview can be seen here:
http://www.asylumpress.com/titles/trench-coats-cigarettes-and-shotguns
"I'm really excited to be working with Chuck brown and Philipp Neundorf to publish this exciting action packed story, "explains Publisher Frank Forte, " Trench Coats has a dark storyline and twisted characters. It's exactly what Asylum Press wants to bring to the masses."
Trenchcoats, Cigarettes and Shotguns is set in a world filled with mech wielding gangsters, demonic Mafioso and demons that run wild on earth, a mysterious hit man named Trypp only relies on three things, his trenchcoat, his cigarettes and his shotguns. A new kind of crime family begins to emerge in New York City, one that uses ancient satanic rituals to gain the speed, strength and other attributes of demons from Hell. When the demonic mob murders the friend of a mysterious hit man named, Trypp; he begins to leave a path of death, destruction and blood to avenge her. But he also begins to embrace the darkness within his soul.
"Working with Philipp Neundorf was a writer's dream, " explains writer Chuck Brown, "though we bumped heads now and again he was able to take the world of Trench coats, Cigarettes and Shotguns to new heights. Assembling this book took a lot of sleepless nights, time & sweat. But in the end I think we created something unique and special. Take away all the demons, death, magic and mayhem in the book you're left with a simple story about a grain of good trying to say afloat in a sea evil. Something I think a lot of people can relate to and enjoy reading."
Artist Philip Nuendorf reminisces about creating Trenchcoats, Cigarettes and Shotguns; "Doing a full color page a day for around three months is an intense period of time. Even more when strong personalities like Chuck and I meet. Often enough we were crushing our heads like Trypp the demons in the book. Back then, after bandaging my wounds and then looking at the pages, I felt it was worth the fight. And as I was looking at the book again for the occasion I still feel like that. Doing comics next to the big productions is tough. But damn worth the experience."
ABOUT ASYLUM PRESS:
Founded in 1999 by Frank Forte, Asylum Press is a unique publishing house specializing in high profile projects from some of the industry's biggest rising stars. Steve Mannion's Fearless Dawn is the company's newest title and has been a great fan favorite. Publishing action/adventure comics with Black Powder: A Bloody Frontier Adventure, Warlash: Zombie Mutant Genesis. And continuing their tradition of horror with Undead Evil, Satan's 3-Ring Circus of Hell, Asylum of Horrors, Zombie Terrors, EEEK! Asylum Press continues to be on the cutting edge of comic and graphic novel publishing. Asylum Press is distributed by Diamond Comics Distributors, Tony Shenton and to the Booktrade by SCB Distributors, Ingram and Baker and Taylor. Distributed in the U.K. by Turnaround Distribution.
ABOUT CHUCK BROWN:
Chuck Brown has written and published six anthologies as a senior member of 803Studios. He's published an online strip at theschoolofart.com and Brown is currently working with Dark Horse writing "Rotten Apple" for Dark Horse Presents #s 2,3,4 & 5. He's also in the process of scripting an 80pg GN and web comic for MTV/geek.
ABOUT PHILIPP S. NUENDORF:
Philipp S. Neundorf lives and works as an artist in Berlin, Germany. He focused on Comics several years ago. Since then he published several short stories, cover artwork or pinups online and printed. Next to that he is having exhibitions as an artist in Berlin. He also did work as a graphic designer, doing designs for computer games, or the artwork for cd-covers. Philipp's comic credits include: Rogue, End Of All, Winter War, SPX-Anthology 2004, and Scorn.