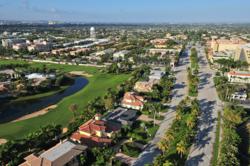 Prices are now bouncing back in Orlando and the Gulf Coast
(PRWEB UK) 27 September 2012
According to a recent study by the HSBC, there is a 'huge discrepancy' between the value of property that UK buyers can purchase here in the UK, compared to those available overseas.
UK land registry figures show that the average cost of a terraced house in England and Wales is just over £123,000, yet in Florida's desirable Orange County, a four-bed condo with a private pool and garden is a snip at a mere £125,000.
Florida continues to lead the US property market with high quality, distressed properties at below market value prices. Tampa and Orlando in particular, currently both have a genuine shortage of high quality rental accommodation and are the ideal choice for investors seeking an existing property that generates immediate income and high rental yields.
Matt Lavin, Knight Knox International's USA specialist comments "We have recently seen a huge drop in the number of foreclosure inventory available to us in Florida, especially in the more popular areas such as Orlando and on the Gulf Coastline. Whilst this makes things harder for us to find genuine value and opportunity in the marketplace, this is excellent news for owners and for those who are now looking to grab what is sure to be the last of the 'Florida bargains'."
Lavin further comments; "at the moment we have stock demonstrating fantastic long-term rental returns, whilst at the same time offering strong capital growth prospects. Being in the market both before and after the crash, we are certain that prices are now bouncing back and the opportunities we have are well placed to capitalise on the recovery".
Winter Park, Orlando
One of the most exclusive areas to reside in Orlando, Winter Park is a beautiful gated community just minutes from high-end shopping and Park Avenue dining.
Comprised of 369 spacious one, two and three-bed condominiums, each residence has a private entrance, creating a single-family home appeal. Living at Winter Park offers access to three resort-style pools, a state-of-the-art fitness centre and a private members-only clubhouse.
Prices for a 1-bed condo start at £35,189, with HOA and taxes paid for Year 1 and, as the majority of the properties are already tenanted, investors can look to earn 10% NET rental returns from the date of purchase.
Equestrian Parc, Tampa
Equipped with all the facilities and amenities of a five-star hotel, residents of Equestrian Parc have full use of the tennis court, club house and media centre, pool and spa and are only 90 minutes from the main Orlando attraction of Disney World.
Our most popular Florida residence, only 12 two-bed units remain in this upscale community. All have tenants on 12-month contracts and, a bargin at only £49,995; buyers can expect to see returns of 9% NET if they choose to continue to let the property.
Richmond Place, Tampa
Located less than five miles from the University of South Florida, Richmond Place was built in 1996 and is a Class A condo development in the heart of New Tampa. A 24-hour gated community, the development is equipped with a wide range of on-site amenities including; pool and tanning deck, picnic area with BBQ grill, fitness centre volleyball and tennis courts, car wash centre and children's playground.
With existing tenants in place on 12-month contracts, prices for a one-bed condo start £38,921 with NET returns of 10% from day one.
Knight Knox International
Specialists at selling investment and lifestyle property in the USA for many years now, Knight Knox International are specialists at selling property to the private investor market, gaining exclusivity on the majority of its projects, through long-standing and hard-won relationships with renowned developers and contractors.
To enquire about any of the properties featured in this release, or for further information on the full range of properties available through Knight Knox International call +44 (0)161 772 1370.
Alternatively, visit us at A Place in the Sun Live this weekend at stand C65 to discuss purchasing property in the USA with one of our property consultants.