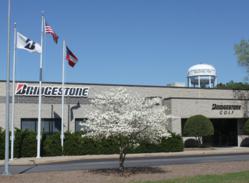 We're completely satisfied with Brivo. The Brivo system is everything I hoped it would be. Suzanne Zimmerman, Human Resources Manager, Bridgestone Golf, Inc.
Bethesda, MD (PRWEB) September 26, 2012
Brivo Systems LLC, leader in cloud applications for security management, today announced that the Bridgestone Golf headquarters in Covington, GA, has deployed the Brivo ACS WebService® cloud-based solution to improve safety and security. Southeastern Security Professionals, LLC. (SSP), based in Suwanee, GA, is the dealer and installer for this project.
"We had outgrown our former access control system, and we tried to control access through our existing alarm system—that didn't work out so well," recalled Suzanne Zimmerman, Human Resources Manager, Bridgestone Golf, Inc. "The system was unreliable and difficult to operate."
Chao Chen of SSP introduced Zimmerman to the Brivo ACS WebService solution. "We watched a demo of the system, and I loved it. The demo was a big selling point. We like how user friendly the Brivo system is and the fact that there is no software. Everything is in the cloud. When I think back to the issues we had with our old access control system—the software updates and computer glitches—we cut all that out now."
Bridgestone Golf has installed Brivo for a mix of external and internal doors in the administrative offices, manufacturing facility, and test center. All employees and contractors for the campus are managed in about 12 different groups, providing specific privileges for each group in terms of day, time, and place of access. Along with Zimmerman, two other staff also administer the system. "I like how we can tailor the privileges for each administrator," Zimmerman noted.
Bridgestone Golf utilizes the system's reporting function to monitor access patterns in all their buildings. "In addition to an excellent line-up of standard reports, Brivo allows us to tailor reports to our specific needs," Zimmerman explained.
"We're completely satisfied with Brivo. In the limited time I spend on the system, I get everything I need from it. With the old system, I wouldn't dare change anything. The Brivo system is everything I hoped it would be," Zimmerman concluded.
For more information on ACS WebService, contact Brivo toll–free at 1-866-692-7486, option 1 or email sales (at) brivo (dot) com.
About Brivo Systems
Brivo Systems LLC is a SaaS-based security management systems provider for organizations that need to protect and remotely monitor buildings and perimeter entry points. When introduced in 2001, Brivo's Web-hosted physical access control system was a unique solution—after a decade of evolution and innovation, it still is. Brivo's groundbreaking physical access control and video solutions empower organizations by giving administrators real-time device control, including immediate visibility of security events and video in local or remote facilities—anytime, anywhere.
The company's innovative, secure, and open architecture-based products and services enable businesses to protect people and assets, comply with regulations, and improve business operational efficiency. These scalable systems—whether standalone or appliance-based or cloud-based—offer a solution for every type of business. Brivo's security management products are a market-proven fit for commercial office buildings, warehouses, retail stores, manufacturing plants, and sensitive areas, such as server rooms or R&D labs, where real-time control and accountability of entry are important.
With headquarters in Bethesda, MD, Brivo is a wholly-owned subsidiary of The Duchossois Group, a privately held holding company headquartered in Elmhurst, Illinois, which also owns other industry leaders such as AMX, The Chamberlain Group, and Milestone AV Technologies. Duchossois also holds strategic interests in Churchill Downs, Inc., and a number of other diversified businesses.
For Media queries:
Bruce J. Doneff
Public Relations
(843) 476.3022
bruce.doneff (at) brivo (dot) com
For Brivo Systems, please contact:
Rajeev Dubey
Senior Director, Marketing
301.664.5251
rajeev.dubey (at) brivo (dot) com