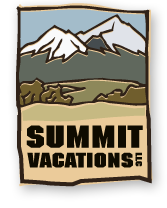 BRECKENRIDGE, CO (PRWEB) September 27, 2012
Summit Vacations announces 30% off all Breckenridge properties. This special discount is good for reservations in September and October 2012. The verification code to use to get the online discount is the word AUTUMN. This cannot be combined with any other discount. Summit Vacations offers the best Breckenridge Co. condo rentals.
Vacationers seeking a great time as well as a discount on lodging will consider visiting Breckenridge in the fall. Breckenridge, Colorado, is the ideal vacation spot for skiers of all levels because of its varied terrain, champagne powder and consistently sunny weather. Visitors seeking a quiet, peaceful vacation should visit Breckenridge during the fall because it is not as busy and they will have more time to see everything the resort has to offer.
There are also many luxurious homes that are available to rent and can sleep large groups of people. Families, couples, and small groups of friends can even find affordable, as well as comfortable accommodations in Breckenridge's 1-3 bedroom condominiums or townhome rentals. For an extended stay, condos or townhomes are the ideal choices for Breckenridge lodging because guests can always save money by buying groceries and cooking for themselves. Most Breckenridge rentals commonly include extra beds or fold-out couches, and hot tubs that guests can relax in after a day out on the slopes.
Lodging rates and availability fluctuates during the season. However, Breckenridge lodging includes condos, hotels and private residences that are available throughout the year to satisfy the requirements of a seasonal traveler. Perfect for family vacations, romantic getaways or taking breaks from college, Breckenridge, Colorado has something for everyone to enjoy. For more information on all Breckenridge discounts and specials, please visit http://www.summitvacations.net.