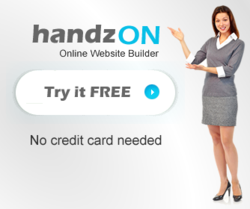 Handzon makes it easy to build Wordpress themes and HTML 5 websites
San Francisco, CA (PRWEB) September 28, 2012
Handzon releases the latest Wordpress Theme designer, allowing users to create powerful themes not just for Wordpress, but also for standard web sites. Now users can have not only the Handzon HTML 5 web site builder, but all paid users can now generate Wordpress blogs and create custom templates and themes without purchasing a pre designed layout.
Currently Handzon has over 200 website templates that can be quickly customized. There's no HTML or design skills required, anyone can very quickly upload their own photos and unique designs that can then be published to any Handzon hosted website or Wordpress blog.
Web site layouts can now be created in a matter of moments. In addition, all of the changes that are applied to the template are instantaneously updated throughout the entire web site. This allows web sites to be updated very quickly. For webmasters and creative designers, this option is very powerful as there are no restrictions when designing a website. In turn, designers and webmasters can then hand over the completed web sites to their customers, and due to the ultra simple interface, beginners can manage their web sites on their own. To find out more on how to build your own Wordpress Theme, see the latest video of template building located here... http://www.youtube.com/watch?v=jtyJRqq_19c&hd=1
This 15 minute video provides all of the details on how to plan for a web site layout, as well as best practices when creating the overall "Theme" for any website.
About Handzon
Handzon began in 2001 creating one of the very first web site builders online. Handzon advances these technologies to enhance the web site building experience for customers worldwide. Handzon also offers a free ad supported version of their web site builder, but is 100% free for all nonprofits. Sign up for your free web site at http://www.handzon.com
For more information call (415)-320-7483