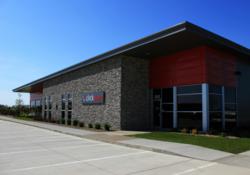 Our growth over the years has been exciting to witness, and we're grateful that a program like the 504 Loan Program has enabled us to expand as we've needed.
Urbana, IA (PRWEB) September 27, 2012
Growth continues at Urbana-based Clickstop where a warehouse expansion has gotten underway at the company's headquarters for its USCargoControl.com division. Ground was broken in July to begin the construction project, which will add nearly 43,000 square feet to the warehouse portion of the building. The addition is slated for completion in December of this year.
The building, which anchors Urbana's new industrial park on Blue Creek Drive, was completed in March 2011. By January 2012, the company began to outgrow its space for its flagship brand, USCargoControl.com, and reopened its old office space on nearby Bing Miller Lane. A group of employees there work on several of the company's home goods and fashion brands, including SpaceSavers.com, EcoFoil.com, and BellyBling.net.
The continued growth of US Cargo Control has fueled this latest need for space. The business has been busy adding new products, and also plans to begin keeping additional inventory on hand so customers can receive their orders more quickly.
Todd Kuennen, Clickstop's CFO, said the expansion plans were made possible in part by a program sponsored by the Small Business Administration (SBA), called the SBA 504 Loan Program. The program provides small businesses with fixed rate, long-term financing, allowing them to expand or modernize its facility or machinery.
"We were able to use the SBA 504 Loan Program back in 2010, when we were developing plans for our new building," said Kuennen. "When it came time to expand further, the 504 program was again the perfect vehicle to help us move forward."
Kuennen says the loan program has played such an important role in the growth of Clickstop and the US Cargo Control brand in particular, that he looks for opportunities to tell other small businesses about it. Some recent brainstorming with the company's marketing department brought up ideas on how to share the program information, resulting in the creation of a video series featured on the USCargoControl.com blog. According to Kuennen, the videos outline the basics of the program, including benefits, eligibility, and application process.
"Our growth over the years has been exciting to witness, and we're grateful that a program like the 504 Loan Program has enabled us to expand as we've needed," said Kuennen. "We're excited to share what we've learned, in hopes that it can help other small businesses that may be in a similar position."
About Clickstop, Inc.
Clickstop is the parent company of a suite of online retail stores based in Urbana, Iowa. Focused on offering relevant products, timely delivery, and excellent customer service, Clickstop web properties serve diverse markets that include the moving and cargo control industry, energy efficient insulation products, home organizing solutions, and personal fashion and styling. For more information visit http://www.clickstop.com.