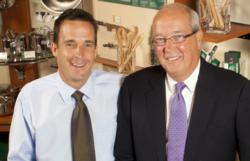 Savoir Fare is an impeccably curated collection of the best cookware, bakeware, stemware, kitchen tools and French linens available in the world.
Milford, MA (PRWEB) September 27, 2012
Clarke, known for more than 20 years as New England's exclusive distributor of high-performance appliances from Sub-Zero, Wolf, Asko and Best, now offers cooking fans Savoir Fare, a new showroom boutique and online store selling the bakeware, cookware, cooking tools, stemware and linens that are favorites of Clarke's chefs and used at the Clarke showrooms and The Clarke Culinary Centers in Massachusetts and Connecticut.
"We are constantly asked about the items we use in the kitchens at Clarke," said Clarke General Manager Sean Clarke. "It makes sense for us to give direct access to these great items that enhance cooking and entertaining, so we carefully curated the ultimate collection of kitchen tools, cookware and stemware. These are the finest tools a home chef or wine connoisseur can purchase."
With a name creatively based on the French for "knowledge of food," Savoir Fare offers the following products:
CIA Cookware
Savoir Fare and Savoirfare.com offer the complete Masters Collection® of cookware, cutlery, bakeware and culinary tools designed by the certified master chefs from The Culinary Institute of America (CIA). These unparalleled cooking tools have been designed with hands-on involvement and testing by the faculty of CIA to ensure a new standard of quality and performance in today's home kitchens. CIA chefs scrutinized, tested and benchmarked over 100 competitive products for best features and performance. These findings, combined with their experience as professional chefs, were used in the development of the Masters Collection. In a process that took more than two years, each product was rigorously tested in the school's kitchens before the final approval. The 7-ply clad construction of the cookware features a .6mm core of copper sandwiched by a total of .8mm of aluminum. The cooking surface of CIA cookware is 304 18/10 brushed stainless steel so it's non-reactive, very hard and durable. It is perfect for cooking on all modes of Wolf appliances including induction.
In addition to the signature cookware, Savoir Fare also offers CIA bakeware, cutlery, utensils and chefs tools. A donation from each product purchased goes back to the CIA scholarship fund to help provide culinary education to students.
Staub French Enamel Cookware
Staub enameled cast-iron cookware has been favored by professional chefs, cordon bleau cooks and beginner home chefs around the globe. Cast iron retains and distributes heat evenly and effectively. It requires no seasoning, doesn't chip, discolor or rust, and works on all cooking surfaces, including induction. Staub is perfect for slow-cooking meals. The more you use it, the better it gets as oils used when cooking will penetrate the pores of the matte enamel and create a natural, smooth non-stick surface. Due to Staub's heat-retaining properties, you can cook on medium heat, as there is no reason to cook on high. Staub's signature Cocottes are designed to provide continuous self-basting of your favorite foods and are perfect for serving at the table as well. Staub, like Savoir Fare, is a family-owned company. Founded by Francis Staub, this fine cookware company has three production sites that include a foundry, two enamelworks factories and a stoneware factory, all in Alsace region of France. Staub is the ideal enamel cookware for meals prepared on Wolf appliances.
Riedel Stemware
The Riedel family has been in the glass business for 300 years, with 11 generations keeping the family business intact. The Riedel story begins in 1678, in the northern part of Bohemia, today the Czech republic and Poland. Claus Riedel, born in 1925, was the first person in the long history of the glass to design its shape according to the character of the wine. He is known as the inventor of the functional wine glass. Based on his unique designs, Claus Riedel was the first in history to recognize the effect of shapes on the perception of alcoholic beverages. His work has influenced and changed the appearance of stemware forever. His masterpiece "Sommeliers" was introduced in the Orvieto region of Italy 30 years ago where it became the first stemware line to be based on the character of wine. Savoir Fare offers a full selection of stemware and barware from this iconic brand. Riedel is the perfect stemware for wines stored in Sub-Zero wine storage.
Le Jacquard Français Table Linens The art of weaving has existed in Eastern France, known as "the cradle of the mills," for almost two centuries. The prized home products made there have been known for their durable, luxurious addition to homes and hotels around the world. From this region, in Gérardmer, France, Savoir Fare has sourced Le Jacquard Français Table Linens. The collection produced as Le Jacquard Français was launched in 1978, in collaboration with the designer Primrose Bordier. Production takes place in a cloth mill that was founded in 1888 and was rebuilt after its destruction in WWII. Le Jacquard Français has earned a reputation for durable, colored fabrics to decorate tables and is now the unchallenged reference for damask linen. Savoir Fare offers heirloom-quality aprons, hand towels, tea towels, napkins and tablecloths to transform dining rooms, kitchens and pantries from dull to delightful.
"We look forward to the upcoming holiday season," said Sean Clarke. "We invite customers into our showroom boutiques to select from these beautiful items in person and we offer them to an even wider audience in our online store at savoirfare.com. Our experienced showroom staff is available in person or by phone to help customers select just the right item for their own kitchen or for a gift."
Savoir Fare boutiques are located at 393 Fortune Blvd. in Milford, MA and at 64 South Main Street in South Norwalk, CT. The online store can be found at http://www.savoirfare.com.
About Clarke
This award-winning distributor of appliances from Sub-Zero, Wolf and Asko, provides expansive showroom resource centers in Milford, MA and South Norwalk, CT, where homeowners can learn about and experience these appliances in dramatic kitchen vignettes, without any pressure to purchase. Clarke also offers Clarke Customer Care, a dedicated repair service for their brands, that has earned them "Best in the US" customer satisfaction ratings. They also offer cooking classes and events from Clarke corporate chefs and local celebrity chefs at The Clarke Culinary Center inside their showrooms and recently launched two kitchen boutiques inside their showrooms and an online store at http://www.savoirfare.com where homeowners can purchase the finest cooking tools. For more information, visit http://www.clarkecorp.com.