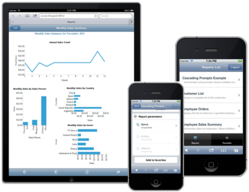 The flexible licensing model and browser-based administration, report design, and report viewing are the most outstanding features.

Joe Loyd,
System Architect, Team Askin Technologies, Inc.
Kirkland, WA (PRWEB) September 26, 2012
GrapeCity today announced that the latest release of ActiveReports Server, a 100% web-based ad hoc reporting solution for business users, now offers an intuitive, native user experience for mobile business intelligence (BI) users on popular devices such as the iPad, iPhone, Android and Windows Phone.
Mobile business users can browse a list of reports created with ActiveReports Server, select reports from the list, specify parameters for reports, drill down into detail reports, share reports via email, and save reports for offline viewing.
The latest ActiveReports Server release includes new mobile report viewing features such as:

An intuitive mobile user experience on the iPad, iPhone, Android, and Windows Phone.
The flexibility to access ad hoc reports offline as Adobe PDF and Microsoft Excel documents.
Fast access to important information via the favorite reports feature.
Easy report sharing via email links or attachments.
What is more, the intuitive report designer makes it easy to design ad hoc reports on the web that look great on mobile devices.
Visit the web site to find more information on ActiveReports Server's mobile ad hoc reporting capabilities, and to learn about the five best practices for mobile ad hoc reporting.
About ActiveReports Server
ActiveReports Server is a 100% web-based, rich, ad hoc reporting solution for business users that enables them to easily create interactive reports. Its browser-based, ad hoc report designer and secure, scalable storage support multi-tenant self-service reporting and accelerate BI adoption much more effectively than traditional reporting tools. Learn more at http://www.activereportsserver.com.
About GrapeCity
For over 25 years, GrapeCity has provided award-winning reporting and business intelligence solutions, software services and enterprise solutions to Fortune 1000 companies in high tech, financial, healthcare, government and other vertical markets. Our focus is on providing innovative solutions that give deep business value to our customers. Learn more at http://www.grapecity.com.