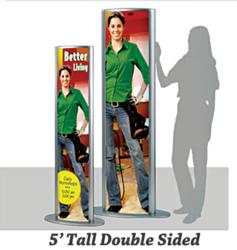 In store marketing and in store advertising displays
Fort Myers, FL (PRWEB) September 28, 2012
Anything Display introduced two new product promotions for in store marketing and in store advertising.
An indoor pedestal sign display that holds a 22" x 28" sign. Easy to swap out the sign, ideal to use over and over again. This quality sign holder is constructed of aluminum with a chrome or black finish.
Lightbox Display - 5 ft tall lighted sign a stand alone sign display. These high-impact lighted stand alone towers are lightweight and portable. Their contemporary radius profile will add a twist of style to your showroom.These lighted signs come as single or double sided.
About Anything Display - A privately owned company based in Fort Myers, Florida, Anything Display is an online supplier of In Store and Storefront POP Marketing Displays - Outdoor Event Displays - Tradeshow Industry - product offerings include Trade Show Banner Displays, Convention Booths, Trade Show Hanging Banners, Trade Show Accessories, and much more ... Serving clients in all 50 states and Canada across multiple industries. For more information visit us online or call 239-433-9738.