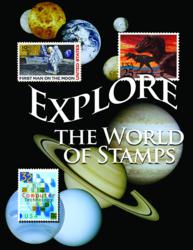 The collecting of stamps brings untold millions of people of all nations into greater understandings of all their world neighbors. — Francis Cardinal Spellman.
Bellefonte, Pennsylvania (PRWEB) September 28, 2012
Stamp collecting in the 21st century is not the same hobby it was in our grandfather's day. No longer is the focus simply on trying to fill in the little squares in a stamp album. Today, the possibilities are limited only by individual's interests and imagination. A stamp collector can spend time exploring outer space, travel around the world or across the United States, follow their favorite sport, immerse themselves in the travels of ancient or modern mail, or just spend some quiet time arranging flowers (on stamps, of course!).
Stamp collecting can be, and often is, combined with other hobbies to the enrichment of both. Genealogists have long known the value of letters and postcards when studying family history, but don't forget the fun side. A family vacation can be made more memorable by sending letters or postcards home with postmarks from special places along the way.
Technology has opened the album and allowed the collector to experience more of the many possibilities the hobby has to offer. Computers and the Internet are now important components in the collector's tool box along with the traditional tongs and album pages. And the American Philatelic Society can open a doorway to make this technology easier and more fun. Here's how:

So, who are some of today's collectors? They can be any age and they come from all walks of life. A few collectors you might recognize include ESPN basketball personality and former Notre Dame coach Digger Phelps;, financial gurus Bill Gross and Warren Buffet; astronaut Henry Hartsfield; actors Gary Burghoff, James Earl Jones, and Patrick Dempsey; authors James Michener and Lawrence Block; explorer Jacques Cousteau; former Wimbledon champion Maria Sharapova; musicians John Lennon, Freddie Mercury, and Ron Wood; and cartoonist Gary Trudeau.
It has been said, "Nothing exciting happens inside your comfort zone." So step outside and take a chance on an old hobby that is new again. Start collecting!