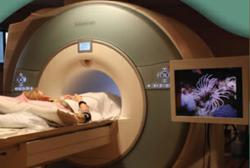 East Providence, RI (PRWEB) September 26, 2012
Accessing Rhode Island Medical Imaging's (RIMI) state-of-the-art imaging services is now more convenient than ever for residents of the Ocean State and Southeastern Massachusetts. Rhode Island Medical Imaging's second 3T magnetic resonance imaging (MRI) system is now scanning patients at the Barrington Medical Center at 1525 Wampanoag Trail in East Providence.
The 3T system in an out-patient setting, which previously has only been available at RIMI's East Greenwich location, offers shorter exams in addition to the highest resolution images available anywhere. Other features that are especially beneficial to patients who might experience anxiety during an MRI examination include:

A more spacious scanner that gives patients increased room during procedures
Shorter scanning times than other MRI machines
An video entertainment system, with a DVD library
Compatibility for iPods, iPhones and MP3s
Rhode Island Medical Imaging is the only medical imaging provider in Rhode Island to offer the benefits of 3T imaging with the convenience of an out-patient setting. Bringing the 3T technology to the East Providence office provides patients in Rhode Island and Southeastern Massachusetts with another 3T option when requiring an MRI examination.
"The 3T technology offers RIMI radiologists the ability to acquire images with exceptional anatomic detail as well as offer tests that may traditionally only be available in a hospital setting, such as prostate MR, MREs, and MR Neurography," comments Dr. Peter Evangelista.
The "T" in 3T stands for Tesla, which is the unit of measurement representing the strength of a magnetic field. A 3T MRI scanner has two times the strength of a 1.5T scanner and 10 to 15 times the strength of an open MRI machine.
RIMI radiologists hold faculty positions at the Warren Alpert Medical School of Brown University and subspecialize in all areas of medical imaging, including women's imaging; bone, joint and muscle imaging; neurology; cardiology; and pediatrics. Furthermore, RIMI radiologists are on staff at Rhode Island Hospital, Women & Infants, Hasbro Children's Hospital and The Miriam Hospital.
For more information, call Rhode Island Medical Imaging at (401) 432-2400.
About Rhode Island Medical Imaging
Established in 1943, Rhode Island Medical Imaging (RIMI) maintains the highest standards of practice in medical diagnostic imaging. Their network of private facilities is staffed by board certified radiologists, registered technologists, and dedicated office personnel, offers physicians and patients prompt and professional service using state-of-the-art technology. The team of radiologists has broad based experience and subspecialty training in all areas of diagnostic imaging, providing patients with immediate access to consultations in any medical imaging subspecialty. RIMI radiologists also perform and interpret the full spectrum of imaging examinations at Rhode Island Hospital, Women & Infants Hospital, and the Miriam Hospital. Those activities are complemented by their academic commitment to The Warren Alpert Medical School of Brown University. RIMI's goal is to provide every physician and patient with the highest quality in contemporary diagnostic imaging. For more information about Rhode Island Medical Imaging, visit http://www.rimirad.com.