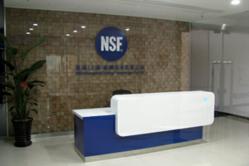 Shanghai (PRWEB) September 27, 2012
NSF International, an independent global public health and safety organization that develops standards, and tests and certifies products for the food equipment, dietary supplement, water and consumer goods industries, has achieved ISO/IEC 17025 accreditation from the China National Accreditation Service (CNAS) for its laboratory in Shanghai, China. This accreditation enables NSF's Shanghai lab to provide local, accredited third-party testing and certification services to foodservice equipment manufacturers with production facilities in China and throughout Asia, helping to reduce testing turnaround times and shipping costs.
The U.S. imports nearly $400 million in foodservice equipment annually, with China as a main driver with a compound annual growth rate of about 35 percent*. The NSF Shanghai Testing Laboratory verifies the safety of foodservice equipment products by testing and evaluating them to NSF American national standards for sanitation, product design and construction, material safety and performance.
CNAS ISO 17025 accreditation demonstrates that the NSF Shanghai Testing Laboratory follows internationally-recognized lab quality management practices. Accredited foodservice equipment testing services include:

Product assessment of design, construction, material safety and performance including corrosion resistance, abrasion resistance, impact testing, heat resistance, adhesion ability and temperature performance testing
Testing to U.S. FDA, European Union and LFGB regulations for food contact materials such as PE, ABS, PVC, ceramic, paper and stainless steel
"As our customers' supply chains become global, it is crucial that they are able to obtain testing and certification services in Asia from the NSF Shanghai laboratory. Manufacturers now have local access to essential accredited safety and sanitation testing services that support foodservice equipment certification, to help gain product acceptance in markets worldwide," says Tom Chestnut, Vice President of NSF's Global Food Division.
Additional Testing Services:
In addition to foodservice equipment testing, the NSF Shanghai Testing Laboratory also offers accredited testing services and quick turnaround times for:
Dietary supplements: Dietary supplement products are tested for active ingredients, nutritional ingredients, microbiological contaminants, metal contaminants, pesticides and solvent residue.
Water treatment and distribution systems, plumbing and drinking water treatment products: Products that treat or come into contact with drinking water (such as faucets and water treatment chemicals) are tested to NSF and international standards for health and safety. This includes metals, pesticide, disinfector, turbidity and pH testing.
Home kitchen products and appliances: Home kitchen products (such as food storage containers, cutlery, glassware and small appliances) are tested and evaluated according to NSF protocols and international standards to verify quality, performance and material safety.
Consumer products and cosmetics testing: Consumer products are tested and evaluated for both quality and performance. This testing confirms product durability and verifies that the product will perform as claimed on its packaging. Cosmetics are tested to FDA, 76/768/EEC and GB regulations and for pesticides and heavy metals. Label reviews and sensory testing are also conducted.
Contact Information: For more information about NSF International's foodservice equipment testing, certification and training programs, contact:
U.S.: Dyan Sturdy at foodequipmentinfo (at) nsf (dot) org or +1 734-913-5795
Europe: Chris Pratsis at chris.pratsis (at) nsf-cmi (dot) com or +44 (0) 1993 885 600
China: For testing: Rain Hang at rhang (at) nsf (dot) org or +86-21-2428 6300. For certification: Lin Wang at lwang (at) nsf (dot) org or +86-21-5237 7700
Media Contact: To schedule an interview with an NSF expert, or for more information on NSF International's operations in China, please contact: Kelly Nichols at +1 734-827-6850 or knichols (at) nsf (dot) org or Dongjing Liu at +86-21-2428 6300 or dliu (at) nsf (dot) org.
More information about the NSF Shanghai Testing Laboratory is available at http://www.nsfchinalab.org/en and a photo gallery is available at http://www.nsf.org/media/enews/1102_corp_china-lab-photo-gallery.html.
About NSF International: NSF International is a global independent organization that writes standards, and tests and certifies products for the dietary supplement, food, water and consumer goods industries, to minimize adverse health effects and protect the environment (nsf.org). Founded in 1944, NSF is committed to protecting human health and safety worldwide. NSF is a World Health Organization Collaborating Centre for Food and Water Safety and Indoor Environment.
NSF International has developed national standards for commercial foodservice equipment and has been testing and certifying equipment to ensure compliance with these standards since its founding in 1944. Most state and local health departments require that food service establishments use equipment certified to these NSF standards.
Additional NSF services include NSF Education and Training, safety audits for the food and water industries, NSF Sustainability, organic certification provided by QAI (Quality Assurance International) and management system registrations delivered through NSF International Strategic Registrations (NSF-ISR).
*$377 million in 2008, primarily from Switzerland, Canada, China and Italy, and 36 percent compound annual growth rate from 2004-2008. "World Market for Food Service Equipment, 5th Edition." MarketResearch.com, p.4, 1 September 2009, slideshare.net/MarketResearchcom/world-market-for-food-service-equipment-5th-edition-7121845.