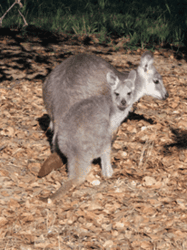 "It's an honor to have this beautiful and unique animal named after me, and I appreciate the support from the Oakland Zoo," said the Warriors' center.
Oakland, CA (PRWEB) September 27, 2012
An Oakland Zoo wallaroo joey has something in common with a Bay Area basketball player. The baby, born at Oakland Zoo, was named "Bogut," after the Golden State Warriors' new center, Andrew Bogut. Zoo Keeper, Adam Zuby, an avid Warriors fan, felt the name "Bogut" suited the joey well, since wallaroos are native to Australia, which also happens to be Andrew Bogut's home. Mr. Bogut, an Australian national, is expected to make his on-court debut for the Warriors in October.
"I'm a true believer that Andrew Bogut can help the Warriors enjoy great success this season," said Zuby. "To honor this potential I wanted to offer the Zoo's support and appreciation for Andrew and the team by naming one of our precious wallaroo joeys after him."
"It's an honor to have this beautiful and unique animal named after me, and I appreciate the support from the Oakland Zoo," said the Warriors' center. "I look forward to having the chance to visit young "Bogut" and the other Aussie animals at the Oakland Zoo in the near future."
Baby "Bogut" recently moved out of his mother's pouch. He was born to mother, Mindy, and father, Irwin, and is one of four joeys born in 2012. It is likely the joey will grow to be four or five feet tall, which is shorter than his namesake, who is seven feet tall. Bogut the joey can be seen daily between the hours of 11:00am – 3:30pm while riding the Outback Express Adventure Train through Wild Australia. Oakland Zoo's Wild Australia is 3.3 acres in size and allows fourteen wallaroos and four emus to roam freely in their spacious exhibit. Oakland Zoo strives to provide its animals with expansive naturalistic habitats that imitate habitats in the wild.
"Wild Australia is a spacious habitat and the third largest exhibit at the Zoo," said Colleen Kinzley, Director of Animal Care, Conservation, and Research at Oakland Zoo. "It was especially designed to be large in size and meet the behavioral needs of these animals, allowing them to hop and run at great speeds and distances. The unique concept of viewing them via train allows guests to be much closer than if they were viewing the Aussie animals from a pathway."
ABOUT WILD AUSTRALIA:
The animals seen in the Wild Australia exhibit, which include emus and wallaroos, are grazers and foragers of natural vegetation. The exhibit environment allows them to feed in a more natural manner. Wild Australia opened in the summer of 2010. Previously, the animals were located in a much smaller dirt exhibit. Additional funding to the Zoo would create the ability to provide larger and more naturalistic habitats for many more species that live at the Zoo. Many of the current animals are older and have enclosures that have become outdated and are in need of repair. Oakland Zoo is committed to humane care of animals and treats each animal with the best care possible with given resources.
ABOUT OAKLAND ZOO:
The Bay Area's award-winning Oakland Zoo is home to more than 660 native and exotic animals. The Zoo offers many educational programs and kid's activities perfect for science field trips, family day trips and exciting birthday parties. Nestled in the Oakland Hills, in 500-acre Knowland Park, the Zoo is located at 9777 Golf Links Road, off Highway 580. The East Bay Zoological Society (Oakland Zoo) is a nonprofit 501(c)3 organization supported in part by members, contributions, the City of Oakland and the East Bay Regional Parks. For more information please visit our website at http://www.oaklandzoo.org.