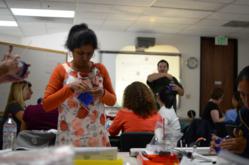 "I feel I have something unique to offer teachers. I would love to help them implement 21st Century Skills and Design Thinking." -- Heather Roesner
(PRWEB) September 27, 2012
RAFT Is On a Mission. For the last four years, RAFT (Resource Area For Teaching) has been building a small but effective group of advocates with its Fellows Program which takes some of the most enthusiastic and inspiring educators -- graduates of one or more RAFT Summer Institutes in Math, Science, and Innovation, a series of intensive professional development workshops in hands on teaching -- and invites them to share what they learned with their colleagues.
As Greg Brown, RAFT Director of Education explained, "Our Fellows are a vital part of the RAFT cycle of learning - we share creative challenges with them, and they share practical insights with us."
With the adoption by most states of the Common Core State Standards (CCSS) which includes changes in student assessments, hands on teaching provides students with learning-by-doing experiences. Engaging hands and brain in learning provides the added boost for students to truly comprehend concepts which can build confidence in their learning abilities, encourage skills like critical thinking and creativity, and contribute to "keeping it real" for them. Best of all, RAFT shows teachers how to do hands on teaching for pennies per student with readily available materials.
This year, 20 very diverse educators were chosen as the 2012 RAFT Fellows and joined the ranks of 39 previous Fellows. Amongst this year's Fellows are educators from pre-school to high school, classrooms to museums. Some have 30 years of practical know-how and others are freshly minted with plenty of energy and new ideas. What they all have in common is a strong commitment and desire to share a teaching approach with alignment to national standards and the ability to keep students engaged and enjoying what they're learning.
RAFT Fellows complete assignments over four months and share their proficiency in hands on teaching in demonstrations with colleagues and students. Impact assessments on student learning is documented and added to a growing library of best practices in hands on teaching.
Meet a couple of the 2012 RAFT Fellows:
Sara Bourbour – After completing a degree in Political Science, Sara decided to go back to school to become a science teacher! Sara reflected, "If I had been exposed to science in school the way RAFT advocates it, I would have had more confidence to major in it in college initially. It's important for science to be accessible to students, and for students not to be intimidated by it."
Jill Slagter – Jill works at the Children's Creativity Museum in San Francisco. She runs a space called the Innovation Lab which features creative re-use of materials. Jill is interested in integrating RAFT activities into on-going information education programs which reach thousands of students.
Meet more 2012 RAFT Fellows and learn about the Summer Institutes.
Resource Area For Teaching's (RAFT) main focus is to inspire, engage and educate all children through the power of hands-on teaching. RAFT is doing this today with some 10,000 educators, who teach both inside and outside the classroom. RAFT's products (Activity Kits & Idea Sheets), services (professional development and mentoring) and low-cost teaching supplies enrich and improve the education of over 825,000 young people each year.