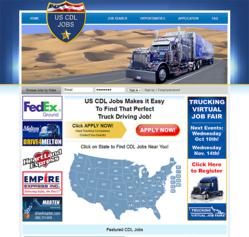 What's really amazing about it is that our site has one application that submits to multiple opportunities, and has the ability to apply individually, providing endless opportunities for truck drivers and owner operators
Dallas, TX (PRWEB) September 27, 2012
Millions of job seekers locate and find jobs on sites like Career Builder and Monster.com every day, but the developers of a new web site say their site (US CDL Jobs) is set to become the next major recruiting site for truck driving careers.
"Uscdljobs.com is a job resource web site for current truck drivers or owner operators, seeking employment or re-employment", said Gloria Martin, manager of digital development of eMedia Group.
Martin explained that the site caters specifically to truckers who are looking for truck driving positions with an easy online application which connects them immediately with multiple truck driver employment opportunities and offers. It also offers a large listing of thousands of open positions across the US to apply directly for.
"Our web site provides all of the latest networking technology, which is why we consider ourselves the next major recruiting website of the trucking industry," Martin noted.
According to a recent survey conducted by the Bureau of Transportation, trucking companies, warehouses and private sector in the U.S. employs an estimated 8.9 million people in trucking-related jobs, where nearly 3.5 million are truck drivers.
Martin added that http://www.uscdljobs.com, unlike most trucking career-related sites, is easier to search and navigate.
In addition, she said, if companies are seeking qualified CDL certified truck drivers or owner operators, they can advertise through various banner ads, premium or regular job listings on its site by contacting sales(at)emediagroupllc(dot)com.
"What's really amazing about it is that our site has one application that submits to multiple opportunities, and has the ability to apply individually, providing endless opportunities for truck drivers and owner operators," Martin said.
Terry Thomas, 27, of Houston, said he has been considering truck driving careers ever since he was laid off after 15 years working for a manufacturing located 20 miles outside of the city of Houston.
"Since I'm very new to the industry, anything that can make the process easier is right up my alley," Thomas said. "I'll definitely give this a try. It looks very promising."
Uscdljobs.com, according to Martin, is not only promising, but it the best place for truck drivers and owner operators looking for job placement or better opportunities.
"That means better pay, better hours, and more home time," Martin stressed. "That's the kind of reward we help drivers of all ages and experience levels achieve. Simply put, with our site, trucking CDL job seekers and owner operators now have a single place to find the latest jobs and openings and an easy application system where they apply directly or submit one application to multiple companies, then receive calls from interested employers."
For more information, please visit: http://www.uscdljobs.com