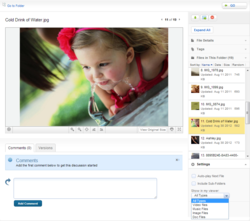 Dallas, TX (PRWEB) September 27, 2012
Cloud storage provider FilesAnywhere, released a new View/Play Module that allows users to view, edit and share documents, photos, music and videos on their account from within the module.
The most important implication this has for users is the ability to collaborate without requiring either the sender or recipient to download files.
Additional improvements include:

The ability to make and view comments on a file
The option to view and switch between older copies of the same file
Files can now be shared, downloaded, or removed without exiting the module
File details are readily available such as file size, creation date, meta tags, etc.
Tags can be viewed, edited, or added to a file instantly
All files within a folder can be viewed simultaneously from a new sidebar
A settings menu has been added to filter files by type and set auto play options
This is the fourth new feature added to the FilesAnywhere User Interface since its redesign in June of this year. For more information about this and other recent enhancements, visit blog.filesanywhere.com, or sign up for a free 1GB cloud storage account to try them first hand. No credit card is required to sign up, and users may add additional storage or features at any time.
About FilesAnywhere:
Since 1999, FilesAnywhere has provided simple, mobile access to files, cloud backup, storage, collaboration, virtual data rooms, and branded file portals for both consumers and businesses. FilesAnywhere is a trademark of Officeware Corporation. Headquartered in Bedford, Texas, Officeware Corporation is a wholly-owned subsidiary of Immediatek, Inc. (IMKI), a Mark Cuban Company. For more information go to filesanywhere.com or call 972-893-3301.