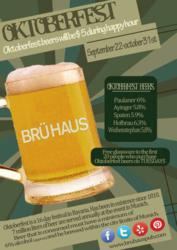 Santa Monica, CA (PRWEB) September 27, 2012
Never has a new kid moved in on the block and risen to popularity quite so quickly as West L.A.'s BRÜ HAUS. Since their grand opening in summer of 2011, they've been serving up inventive new renditions of our favorite German classics — think Sweet Potater Tots and Tequila Habanero Chicken Sausage. With an unbelievable first year behind them, BRÜ HAUS is upping the ante and throwing a month-long bash in celebration of — what else? — beer.
BRÜ HAUS's Oktoberfest will run through to the end of the month, with a dirndl-clad staff topping off $20 steins (which you can keep afterwards as a souvenir) with a host of German beers special to the occasion, with new glassware available each week. From Weihenstephan and Spaten, to Ayinger, Paulaner and Hofbräu, the fräuleins at BRÜ HAUS will be offering these along with their usual brews to pair with a newly overhauled Happy Hour Menu, touting budget-friendly bites such as Buffalo & Sweet Sriracha Cauliflower for $7 and Pastrami Egg Rolls for just $3.
Each week, BRÜ HAUS will be featuring a specific brewery in efforts to educate casual beer drinkers on some of Germany's finest brews. First up (September 25-October 1) is Weihenstephan, and their specialty beers including Vitus, Korbinian, Pale Ale, Kristall Weiss, Hefe Weisse and Oktoberfest. On each Tuesday, a new brewery will be featured and there will be a glass giveaway (until supplies last) from each of the breweries. Come back every Tuesday to try out the beers and collect all of the glasses.
For up-to-date information on featured breweries, visit BRÜ HAUS on facebook at http://www.facebook.com/bruhausla.
Oktoberfest begins September 22nd and continues throughout the month of October.
BRÜ HAUS is located at 11831 Wilshire Blvd., Los Angeles, CA 90025. For more information, visit http://www.bruhauspub.com
Media Contact: Kelley Coughlan, Melrose PR, Kelley(at)melrosepr(dot)com, (310) 450-7960, http://www.melrosepr.com