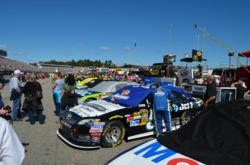 We are proud to be associated with MWR and wish them the best of luck this championship season.
St. Michael, Minnesota (PRWEB) September 28, 2012
Waterjet manufacturer Jet Edge was featured prominently on Michael Waltrip Racing's famous #55 car at the Sylvania 300 NASCAR® Sprint Cup Series race Sept. 23 at New Hampshire Motor Speedway.
Brian Vickers drove the #55 Jet Edge/Freightliner Toyota Camry to a ninth place finish. The MWR driver qualified fourth, but was forced to start from the back of the field after an engine change. Vickers quickly climbed into the top 25 and raced in 14th during caution-flag pit stops with 120 laps remaining. Crew Chief Rodney Childers opted for a two-tire stop and Vickers returned to the track in the lead. The No. 55 held the lead for five laps and held his position in the top five. After a four-tire stop under green, Vickers restarted the race in seventh with 23 laps remaining and held on for the ninth-place finish. It marked the fourth top-10 finish in seven races for Vickers at MWR.
Michael Waltrip Racing ran the special #55 as a salute to sponsors Jet Edge and Freightliner. MWR uses a 90KSI Jet Edge water jet system to cut more than 1,000 parts for each of its racecars. MWR builds about 56 cars per year, including the #55 Aaron's Dream Machine Toyota Camry driven by Michael Waltrip, Mark Martin and Brian Vickers, the #56 NAPA AUTO PARTS Toyota Camry driven by Martin Truex Jr., and the #15 5-hour ENERGY Toyota Camry driven by Clint Bowyer.
MWR has two drivers in the Chase for the Sprint Cup this fall, Clint Bowyer and Martin Truex, Jr. It is MWR's first Chase appearance.
"It's so exciting to see MWR in the Chase after all their years of hard work," said Jet Edge President Jude Lague. "We've been with them since the early days when they were struggling, and we always knew they would be successful because they have the grit, confidence and teamwork of champions. We are proud to be associated with MWR and wish them the best of luck this championship season."
About Jet Edge
Established in 1984, Jet Edge is a global designer and manufacturer of waterjet systems for precision cutting, surface preparation and coating removal. Jet Edge systems are used around the world in a broad range of industries, from the world's leading airlines to automotive, aerospace, industrial manufacturers, machine and job shops. Jet Edge waterjets are proudly made in U.S.A.
More Information
For more information about Jet Edge, visit http://www.jetedge.com, e-mail sales(at)jetedge(dot)com or call 1-800-JET-EDGE or 763-497-8700. Follow us on Twitter @jetedge.