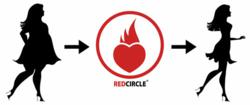 There is nothing like finding the perfect dress, only to put it on and realize that it is a bit too tight in the hips or that it cannot be zipped all the way. We want women to know there are healthy options for losing weight and feeling great
Houston, Texas (PRWEB) September 30, 2012
RedCircle Personalized Weight Management Inc., a subsidiary of American Rejuvenation Centers, announces the launch of its Wedding Gown Slim Down Program for Houston brides. Wedding Gown Slim Down is designed to assist those brides who want to lose weight for a perfect fit in their wedding gown, for those preparing for their honeymoon or for those opting for a healthier lifestyle that will last beyond their walk down the aisle. As Houston's only personalized medical weight loss and wellness management program, RedCircle guarantees that each bride will fit into their wedding gown by their wedding day.
"We know how important it is for brides to look and feel their very best on their wedding day. There is nothing like finding the perfect dress, only to put it on and realize that it is a bit too tight in the hips or that it cannot be zipped all the way," said Suzi Spiering, R.D.Clinical Nutritionist and Director of Coaching at RedCircle. "We want women to know there are healthy options for losing weight and feeling great. Our doctors, dieticians and coaches at RedCircle are here to help her meet her goal, each and every step of the way."
RedCircle's weight loss program for brides is an innovative plan that allows brides-to-be to take the guesswork out of losing weight, keeping it off and looking picture perfect for their wedding day and beyond. Wedding Gown Slim Down is based on RedCircle's Core Program, which begins with a comprehensive health evaluation, genetic blueprint, cardiometabolic testing and lifestyle evaluation to determine which diet and exercise plan will work best for each client. The seven-part scientific system also features supplements, personal training, accountability and meal planning, as well as a weekly progress review of each client by RedCircle's team of doctors and staff to guarantee success.
RedCircle's comprehensive approach to weight loss for brides is more than just a quick fix or a camouflaging of problem areas. With both the Core and Wedding Gown Slim Down Programs, each client learns how their body reacts to exercise and different diets, which foods work best with their genetic makeup and why some diets do not work for everybody. Because it is much more than a standard food-based diet plan, RedCircle's weight and wellness programs are designed to boost metabolism, promote and maintain weight loss, and improve cardiovascular health.
RedCircle is also affiliated with Amerejuve, Houston's #1 MedSpa, to offer beautifying services for Houston brides with their Beautiful Bride Packages. Medspa services included in the packages are laser hair removal, body contouring and cellulite reduction with VelaShape™ and SmartLipo, facial refining and rejuvenation, dermal fillers and BOTOX®, as well as LATISSE® for full, long, dark lashes. Visit http://www.amerejuve.com/beautifulbride or call 713-960-6262 for more information.
RedCircle also recently launched the Teen Weight Management Program, which allows teens to take matters into their own hands, lose weight, learn positive eating and exercise habits, and effectively lower their risk for lifelong issues that stem from being overweight or obese. The Teen Weight Management program features the same components as the Core Program, with the exception of supplements, but offers teens exercise equipment of their choosing. Visit http://www.myredcircle.com for more information.
About RedCircle:
RedCircle Personalized Weight Management Inc. is a subsidiary of American Rejuvenation Centers headquartered in Houston, Texas. Supported by cutting edge medical technology and distinguished doctors, RedCircle is a Personalized Weight Management Program based on an individual's resting metabolism, genetic blueprint, cardiometabolic status, fitness, activity and stress levels, and lifestyle. Unlike the "one-size-fits-all" diet programs in the weight loss industry which only focus on dietary intake, RedCircle is a personalized program and goes beyond dietary interventions. For more information on RedCircle, please visit http://www.myredcircle.com or call 713-781-7332.
###