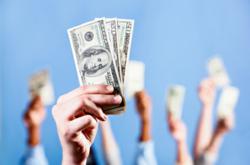 ...a properly executed online product launch may be the answer most small businesses need.
(PRWEB) September 27, 2012
Millions of existing businesses are struggling to develop new ways of generating more business. With sales only trickling in, many business owners are finding that the old way of sending someone straight into a sales pitch just isn't working anymore, and they're turning to PredictableProfits.com's CEO, Charles Gaudet, for an answer.
"While we have to look at each client situation a little differently, if you have a good product and an existing database of prospects and clients, a properly executed online product launch may be the answer most small businesses need," says Gaudet. "Even in this economy, we just completed a product launch on September 25, 2012 that generated over 22,000 leads and earned our client over $1.1 million dollars in just twelve days. There are very few marketing strategies that can generate that type of response."
Not only are rapid cash flow and lead generation the obvious benefits, there are several others to consider. Product launches are a great way to better understand your customers' needs and wants while stimulating a renewed interest in the business.
Gaudet says the key to an effective launch begins with a four-stage process: beginning with establishing rapport, building trust, establishing social proof and positioning the business owner as a trusted authority in their market. During the initial stages of the product launch, the business owner shares information to help further advance prospective clients in getting the results they hope to achieve. Once the prospect relationship has been established, approximately five days after the lead has been captured, the small business owner makes their product available for the first time - for up to ten days with a limited time or quantity offer.
"Let's face it, prospects have become more skeptical and are trying to be smarter with their money. People are faced with tough economic times and they're not just going to throw money at anyone - they want to spend money only with those people they know, like, and trust," says Charles Gaudet, "and a product launch is one of the most effective means of making that happen."
Online product launches generally work best if the business owner has an existing email database, a compelling offer, content that builds trust, and joint venture partners who are willing to endorse your product to their customers. If these steps are not in place, Managed Marketing will work with their clients to help them prepare for this process.
For more information on how entrepreneurs can benefit from the marketing strategies shared by Charles Gaudet, please visit http://www.PredictableProfits.com/FreeCD to enter your name and email address for a free CD.
ABOUT CHARLES GAUDET:
Gaudet has been called "The Entrepreneur's Marketing Champion" for consistently delivering windfalls of profits to his clients by unveiling hidden assets and opportunities that have been previously under-utilized or have gone unnoticed. Gaudet started his first business at the age of 4 when he set up a tollbooth in the hallway leading to his parent's bathroom, and has been ferociously committed to the study of successful business practice ever since. At age 24, after abruptly finding himself in millions of dollars in debt, he systematically grew his first multi-million dollar business. He is the founder of PredictableProfits.com.
Follow Gaudet on Twitter at http://www.Twitter.com/CharlesGaudet.
ABOUT PREDICTABLE PROFITS:
Predictable Profits is a leading small business marketing company, specializing in finding overlooked marketing opportunities commonly found in most small-to-medium sized businesses for generating quick, dependable, and predictable profits without having to spend any more money in advertising. The company shares their marketing strategies with its Insiders' Club Members, private clients, and on their blog. You can read more about Predictable Profits by visiting the company's website at http://www.PredictableProfits.com.