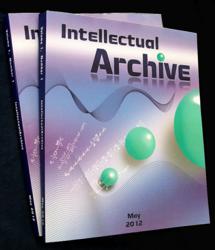 Our primary goal is to accumulate and preserve the achievements of human intellect and talent.
Richmond Hill, Ontario (PRWEB) September 27, 2012
IntellectualArchive.com is a new website and free online service that allows people to post their works of science or art in the interest of preserving and protecting intellectual property. Not only does the site allow users to register and store these works online, providing ready access whenever needed, but also an abstract service is available to send copies of works to major national libraries, further protecting the integrity of each piece.
IntellectualArchive.com can be utilized by anyone, with authors retaining sole ownership of the copyright. Intellectual works accepted by the site include, but are not limited to, scientific papers/articles (physics, mathematics, biology, astronomy, etc.), literature (fiction, non-fiction, poetry, etc.), social sciences (economics, psychology, education, law etc.), philosophical essays and more. After uploading an applicable document, users will receive a copyright acknowledgement via e-mail and a permanent link, which allows the file to be downloaded at any time. Posted articles are searchable on-site and indexed by Google.com.
Furthermore, IntellectualArchive.com sends the "IntellectualArchive Bulletin" to major national libraries on a monthly basis. The Bulletin contains the abstracts of all works posted on the website over the previous month. Sent to such institutions as the Library of Congress, the Library and Archives Canada, and many others, the purpose of this action is to help guarantee the safety of the creators' achievements. Given the chance for any online database to be corrupted, hacked or discontinued without notice, these abstracts allow information to also exist independent from the Internet.
Though completely free to use, IntellectualArchive.com supports its services through the publication of the most interesting full-text articles in the "IntellectualArchive" multidisciplinary journal. With the charge for this service at $4.00 per page — roughly 30-times less than the current average price in scientific journals — the number of authors who will pursue being published in the "IntellectualArchive" is expected to be large enough to continuously support the service.
Other nominally priced services offered by IntellectualArchive.com include designing personal web pages with curriculum vitae, links to personal websites, photos and publication lists (all linked to posted works and indexed by Google.com) and issuing an ISBN (International Standard Book Number) for published text-based pieces charged at one-fifth of typical ISBN prices in the USA.
"Our primary goal is to accumulate and preserve the achievements of human intellect and talent," said M.S. Raynus, Co-Editor of IntellectualArchive.com. "So far, our services have been accepted by hundreds of scientists across the globe. In just a short while, we have posted more than 800 articles online, printed five bulletins, issued four paid 'IntellectualArchive' multidisciplinary journals and published one book."
IntellectualArchive.com is owned and operated by Shiny World Corporation, an experienced internet/intranet and database solutions provider founded in 1998. For more information, e-mail support(at)IntellectualArchive(dot)com.