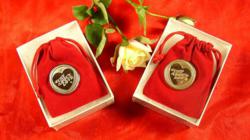 Love is where the heart is
Glenview, Illinois (PRWEB) September 27, 2012
Retailing for just $22.00 each, the 1-½" in diameter light weight love coin is comfortable to hold or carry. Available in both Silvertone and Goldtone non-tarnishing finishes. Each coin is individually die-struck in metal by fine jewelry craftsmen. "The front has a 3-D modified puff heart with our exclusive Just About Love logo embedded into the heart's surface. The back side carries a raised love message that says: 'KEEP THIS HEART WITH YOU ALWAYS AS A REMINDER THAT I WILL ALWAYS LOVE YOU.' The outer perimeters of both sides have intertwined ribbon designs symbolizing two hearts blended into one," said Marianne Crabtree, Creative Director.
"Our customer feedback tells us that our new Pocket Heart Love Coin has become the perfect gift for a gal or guy to show their affection for someone they love in a unique and elegant manner. The fact that their message of love is carried along by their gift recipient throughout the day, while near or far away, cannot be overemphasized. It's an important feature. We also designed the Keepsake Pocket Heart Love Coin to be gender neutral in its design and message. We know that both gals and guys of all ages are enjoying giving or receiving our Keepsake Pocket Heart Love Coin," adds Crabtree.
JustAboutLove.com offers many different types of fashion jewelry including our Keepsake pocket heart love coins, charm bracelets, necklaces, brooches and special occasion gifts.
To learn more about the Keepsake Love Coins, or to browse our selection of fashion jewelry, please visit http://justaboutlove.com/keepsakelovecoins.html