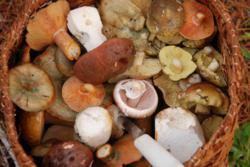 There's a special magic to the variety of mushrooms and the people who pick them in our little corner of the world.
Long Beach Peninsula, WA (PRWEB) September 27, 2012
Chefs and mushroom lovers alike will share their passion for one of the Long Beach Peninsula's most prolific – and delectable – local products during the Wild Mushroom Celebration, slated for Oct. 1 through Nov. 15, 2012. Timed with the peak harvest of autumn mushrooms, this unique event showcases both the wide variety of edible, foraged fungi, as well as the extraordinary talent of the chefs that bring them ultra-fresh from forest, grasslands and dunes to table. Visitors are encouraged to make early reservations for cooking classes, winemaker dinners, packages, and more.
"There's a special magic to the variety of mushrooms and the people who pick them in our little corner of the world," said Chef Nanci Main, who pioneered Northwest cuisine with Chef Jimella Lucas, Jimella & Nanci's Market Cafe. "The traditions of our small community are intrinsically tied to the seasons of local foods and livelihoods."
Kicking off the festival on Oct. 6 at 1PM is a Wild Mushroom Cooking Class with Jeff McManus, chef/owner, Pelicano Restaurant, Ilwaco. With plenty of sampling and enjoyment, Jeff will share various techniques for bringing out the best in wild mushroom flavor and texture. Space is limited; early sign up advised.
On Oct. 10 at 6PM, the Shelburne Restaurant & Pub, Seaview, will host a Wild Mushroom & Wine Dinner with Phelps Creek Vineyards, Hood River, Oregon. An Afternoon Wild Mushroom and Wine Tasting with Phelps Creek will be offered at the Shelburne Inn, Oct. 11, 4PM.
"I love the whole process of hunting, gathering, photographing, cooking and eating them," said Laurie Anderson, Shelburne Restaurant & Pub. "It's always a little bit like Christmas, in that you never know what you'll find, and the bounty is such a joy."
At The Depot Restaurant, Seaview, Chef Michael Lalewicz has invited Walla Walla's Cadaretta Winery as a partner for his annual Wild Mushroom Wine Dinner on Oct. 12 at 7:30PM. Guests can sample five Cadaretta wines from "meet and greet" through dessert during this four-course feast.
"The Peninsula mushrooms are ultra-fresh, coming from the woods to the plate in minutes," said Lalewicz. "They are earthy and always inspiring."
On Oct. 13 at Pickled Fish, Long Beach, Chef Sebastian Carosi welcomes guests to join forager extraordinaire Veronica Williams and Fort George Brewhouse for Forage. Feast. Ferment. The event offers a forest-foraged mushroom symposium, local beer and mushroom feast, and an amateur mushroom recipe contest and cook off.
Boreas Bed & Breakfast Inn will partner with Pelicano Restaurant for a Wild Mushroom Celebration Package from Oct. 19 to 21. The all-inclusive package includes a two-night stay, two lavish Boreas breakfasts and a five-course dinner. Highlights include a six-course Wild Mushroom Celebration breakfast with Veronica Williams and a dinner at Pelicano Restaurant, on Oct. 20, with pairings of five, wild-mushroom courses with Washington wines. Boreas will also offer a Wild Mushroom Discussion, open to the public, on Oct. 21. As a special offer, Boreas will extend stays on either end for a "walk-in only" rate of $150 per night.
On Oct. 19, 20 and 21, wild mushrooms will be featured as an appetizer, in a salad, in a dinner special, and in a dessert at 42nd Street Café and Bistro, Seaview. The items will be available a la carte and as a dinner package for two.
On Oct. 26 at 6PM, the Shelburne Restaurant and Pub will partner with Seattle's Pike Brewing Company for a beer lover's wild mushroom dinner.
Moving into November, Tuscany Café, Ilwaco, will showcase late-harvest wild mushrooms with a five-course Maryhill Winery Winemaker's Dinner on Nov. 2.
Also on Nov. 2, Chefs Jimella Lucas and Nanci Main will host a convivial "Big Night" Special Mushroom Dinner with live music. The dinner will feature a soup, tart, stuffed mushrooms, halibut with pickled mushroom relish and dessert. Dinner hours are 5 to 8:30PM; reservations are advised.
Inspired by prized porcini popping up on lawns and Golden Chanterelles pushing up fir needle-laden forest floors, chefs will be offering savory, satisfying and belly-warming dishes throughout the Celebration. Look for daily wild mushroom specials at above mentioned restaurants as well as "soup of the moment" and daily lunch specials at Good Day Café, Surfside.
Located on the southwestern-most coast of Washington State, the Long Beach Peninsula provides a mouthwatering mélange of restaurants that share a devotion to the region's untold natural ingredients. Over twenty varieties of edible mushrooms thrive under its ideal coastal conditions of moist sea air, fertile sandy soil and protective evergreens. For a complete schedule of Wild Mushroom Festival events, please access http://www.funbeach.com/mushroom. For destination information, contact the Long Beach Peninsula Visitors Bureau at 800-451-2542 or access the Peninsula's web site at http://www.funbeach.com.