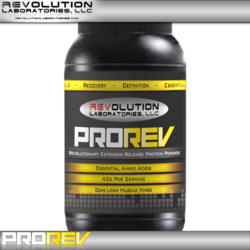 Revolutionary mixture and taste with an unbeatable price!! ~Terry Asher
Solana Beach, California (PRWEB) September 27, 2012
As if Revolution Laboratories, LLC was not already selling their most popular protein supplement for cheap enough, RevLabs decided to double the size of the ProRev bottle! Additionally, since their customers have been so dedicated and supportive, Cheif Opperating Officer Joshua Nussbaum has decided to give customers 10% for entering the promotional code "Jeesh".
The increase in size and the discounted price does not mean Revolution Laboratories is skimping on the top of the line ingredients. ProRev will still contain the same amazing supplement facts that health fanatics all over the world have learned to love. The supplement fact highlights include:
113 Calories (only 9 from fat)
24g of Blended Whey Protein
1g of Fat
2g of Carbs
1g of Sugar
With the same great taste as the old version of ProRev, this decision will no doubt contribute to Revolution Laboratories acquiring even more market share but will it be profitable? Only time will tell.