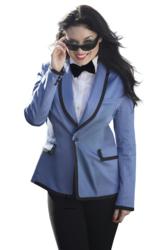 (PRWEB) September 27, 2012
On the heels of pop culture crazes ultimately comes the merchandising mania. Whether branded stickers, lunch boxes, cereal boxes, posters or such … this year's big Gangnam trend will most certainly be an in-demand costume. But the craze only popped up a few weeks ago. Who could get to market fast enough?
Racing against the impossible time frame challenge, former movie marketing executive, Dana Precious and star-power photographer, Peter Tangen, have delivered the Gangnam costume look with bright green and powder blue tuxedo jackets in time for Halloween.
"As a photographer, I spotted the growing trend early on and became intrigued." says Peter Tangen of his idea. Dana is the only person I know who has all of the skills necessary to realize this impossible goal, so together we created a Gangnam Halloween costume that, we think, is the only one like it available in the world." Pete has photographed movie stars from Shia LaBouef, Chris Hemsworth, Emma Stone and Neil Patrick Harris to Samuel L. Jackson, Anthony Hopkins and Steve Martin.
"With Halloween looming there is an apparent gap in the marketplace for what the fans themselves have proclaimed by viewership "votes" as the hottest song and dance trend of this decade, if not the millennium, so it seemed like a natural merchandising move." said Dana Precious. "We used skills and resources from our experiences in the movie marketing industry to create and manufacturer costumes within the span of three weeks.
Dana Precious is no stranger to movie magic as Sony Pictures' EVP of Creative Advertising who launched movie franchises such as "Spider-Man", "Charlie's Angels," and "Stuart Little" and most recently as Marvel's EVP of Worldwide Marketing who launched "Thor" and "Captain America". All have been been movie merchandise magnets, including Halloween costumes based on movie characters. The fast paced Halloween creation of the dancer's tuxedos was a natural fashion "fit" for her career and it's being sold online "since social media started the craze, it seemed best to follow the consumer trend and sell it online." summarizes Dana.
Mark Workman, an entertainment trend prognosticator and President of Fireworks Enterprises, Inc.
says "Wow, this product is going to hit and hit big. It's clear that the Gangnam trend is a giant tidal wave that's hitting the world. With Halloween less than four weeks away this craze may be on its way to overtake Zombies, Monsters, Fairies and Politicians costumes."
Available only online at GoGangnam.com