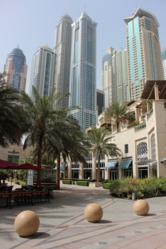 passengers are more concerned about their safety with stopovers in Dubai
(PRWEB) September 29, 2012
A number of travellers have publicly aired their concern, over the recent weeks, after a major Australian airline signed a new 10 year agreement of partnership with a well known United Arab Emirates airline earlier this month. The agreement sees the Australian airline relocating one of their major overseas hubs from Singapore to Dubai, in the United Arab Emirates. While the move may only have minor effects on already existing flight schedules, passengers are more concerned about their safety with stopovers in Dubai.
In recent months, the Dubai International Airport (DXB) has not fared well in the media, nor has the justice system of the United Arab Emirates, for western travellers. A number of recent arrests made within the grounds of the airport have been reversed, after negotiations within the Australian, British and American governments. One particular case that has made headlines internationally is the case of an Australian woman, who was raped after having her drink spiked. While in most cases we would assume that the blame would lie with her rapists, this woman is now facing charges in the United Arab Emirates for having sex out of wedlock. While this may seem like an outrage to many western societies, this is the law in Dubai – which international travellers must abide by.
The best thing that travellers can do, when experiencing a stopover in Dubai or any international destination, is to familiarise themselves with local laws, particularly those that may affect their regular behaviour. In Dubai, for instance, showing affection could lead to your arrest. Any public displays of affection, such as kissing, are unacceptable in the United Arab Emirates society. When travelling to any overseas destination, you must carry an authorised letter from your doctor for any medication you may be in possession of - prescription or otherwise. Earlier this year, two Canadian citizens were detained in Dubai for carrying an 'illegal drug' – Celebrex, a common drug used to treat the symptoms of arthritis.
While it is important to be aware of your chosen travel destination, many people are not aware of the risks they may face on a simple layover to their chosen country. An Australian minister addressed the senate earlier this month, raising her concern for the safety of Australian travellers in Dubai. The new agreement between the two airlines has raised a number of new concerns within the travel industry. While travel advisory sites and media outlets are urging passengers to carry out their own research about customs and laws in Dubai, many travellers are asking the all-important question of what the Australian airlines will be doing to help their loyal customers. Information must be passed down to passengers, regarding these new changes, in order for all citizens to remain safe and out of jail, when travelling through Dubai.
This article was brought to you by Travel Associates. For more information, check out their website: http://www.travel-associates.com.au