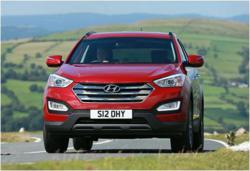 (PRWEB UK) 27 September 2012
Hyundai Sante Fe Premium 4WD 7-Seat 2.2 CRDi Automatic
Hyundai has worked major changes in putting this third generation Santa Fe on the road. The new model is bigger, roomier and marks a notable shift up in quality and all-round efficiency. Something of a looker, too, with stylish all-new shape for this SUV.
On sale in the UK from October, this third generation Santa Fe comes in a broad variety of forms, all based around a reworked 2.2-litre four cylinder turbo diesel offering lower C02 emissions and improved economy versus the outgoing Mk 2.
There's a choice of 6-speed transmissions – manual and auto – although most buyers (68%) are expected to choose the latter.
Hyundai is now offering 2WD manual versions of the Sante Fe in the UK for the first time to boost the eco factor – and broaden the big Hyundai's appeal to company car drivers. However, the bulk of the range goes with 4WD.
The buyer also needs to decide on the five or seven-seater configurations and which trim level to go for, since there are three: Style, Premium and Premium SE.
Clearly, this is the most sophisticated Santa Fe to date, sporting new design and technology and moving with the times to reflect the growing and ever more competitive SUV market. While the Sante Fe's price has gone up, Hyundai has at the same time put a lot of effort into lowering running and repair costs.
Hyundai says a signficant move in Benefit in Kind company car tax change, from 29% to 25%, makes it attractive to business users too.
What's hot?
The Sante Fe now sports a more premium look and feel, inside and out. The new shape, another rendition of Hyundai's 'Storm Edge' design philosophy, looks sharp and contemporary.
Cabin plastics and materials also step up.
The new shell, 40 mm longer, 5 mm wider yet 45 mm lower, offers a useful stretch in cabin space.
Front legroom increases by 38mm. Rear legroom is up 45 mm and first row headroom improves by 11 mm. As before, five and seven-seater options up for grabs.
Reworked 2.2 diesel engine is significantly greener. With the 2WD model, combinined economy is 47.9 mpg and sub 160 g/km C02 emissions (actually 155 g/km) will appeal to company car buyers.
The manual 4WD model is almost on a par, with 46.3 mpg and 159 g/km. The 4WD auto delivers 41.5 mpg, but C02 emissions hit 178 g/km.
Equipment levels are high across the range and a variety of safety features including Trailer Stability Assist (useful for owners towing a boat, for example), are standard issue.
To drive, the Sante Fe is impressively smooth, quiet and refined,with the 2.2 diesel engine up ahead well subdued.
There's a massive wall of torque (engine pulling power) between 1800-2500 rpm which gives the Hyundai easy pick up. The Sante Fe also cruises serenely on the motorway.
With suspension tuning specific to the UK, the Sante Fe handles tidily and offers up a comfortable, compliant ride.
This is an easy car to drive, despite its relatively large size.
Insurance costs have been slashed. Instead of the old car's group 29, the new Sante Fe sits in groups 18-20. Along with improved C02 emissions, economy and lower repair costs, company car tax also lowers from 29% to 25%. So for a company car buyer, this new Sante Fe will cost less to run than old.
What's not?
While the Santa Fe, steers, rides and corners competently enough, it's still not what you might call a thrill to drive. This is a new, bigger Sante Fe and at times with that bulkier body, it lacks the agility of some of its rivals, like the Nissan X-Trail and Honda CR-V.
Steering works well but ultimately lacks feel.
While overall cabin presentation has moved up, the centre console design will likely divide opinion. While some will like it, for others it'll be too garish and gadgety.
Maybe a simpler design would work better.
On this seven-seater, the rearmost seats aren't really sized for adults. For children, however, they will be fine.
Price has moved up, with top spec models now hitting the £33-£35k mark.
On the other hand, with higher technology, improved equipment and safety and lower running costs, the Sante Fe goes some way to justiying that premium.
Hyundai now moving the Santa Fe directly into the BMW-Audi line of fire….
Business Car Manager car review verdict
The Santa Fe has long been one of Hyundai's signature models with a well deserved reputation for space, practicality and value for money. The new Santa Fe takes that formula and successfully moves it upmarket.
This is a significant step up in terms of style and ability while lower C02 emissions and insurance costs, plus improved economy mean reduced company car tax. Business buyers will take a closer look and the Sante Fe will be in reach of more business car tax allowances.
If it ultimately lacks the premium feel of, say, an Audi at its new elevated price point, this new Santa Fe's still a highly competitive package, especially for those small business owners who value the Hyunbdai's immense practicality and the benefit of its substantial peace of mind five year unlimited mileage warranty.
Hyundai Santa Fe Premium 4WD 2.2 CRDi 7-seat Automatic – the low down
P11D Value £31,515
Monthly business rental (ex VAT) From £408
Tax Bands 2012/13 to 2014/15 29%; 30%; 31%
Benefit in kind 2012/13 to 2014/15 £9139; £9455; £9770
Engine 2.2-litre four cylinder turbo diesel
CO2 Emissions 178 g/km
Power/torque 197PS/436Nm
0-62mph/top speed 10.2 secs/118 mph
Economy (official) 41.5mpg Combined