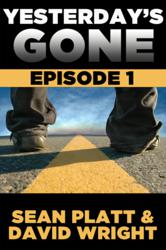 You don't just feel like you've gained half an hour," Truant says, "you feel like you have twice as much time.
Cincinnati, OH (PRWEB) September 28, 2012
Countless successful authors have offered advice to aspiring writers on how to become great writers. But through their discussion in episode #17 of their "Self Publishing Podcast," hosts Johnny B. Truant, Sean Platt, and David Wright discover that the formula for writing success is actually very simple--at least in theory.
"Show up," says Sean Platt, whose collaboration with David Wright on serial fiction projects like "Available Darkness" and "Yesterday's Gone" demands a rigorous ongoing schedule of writing and publishing. "Writing is very similar to shaping your body. It's a discipline. How much can you focus? How diligent can you be? Train your brain to show up every day."
A key component to this practice, the hosts agree, is avoiding distractions.
"Your phone shouldn't be active while you're writing," says Johnny B. Truant, who juggles fiction writing, motivational blogging, entrepreneurship, business consulting, being a husband and father, and numerous other commitments. "We have this belief in our culture that you should be available at all times and respond to phone calls and emails right away...It becomes an addiction."
To help him overcome his own compulsive behavior, Truant recently held himself to a 30-day challenge to only check email twice a day. The results blew him away.
"You don't just feel like you've gained half an hour," Truant says, "you feel like you have twice as much time. Turn off your phone while you're writing, ignore email throughout the middle of the day, and you'll be astonished by the difference."
But how writers achieve this level of discipline depends on the individual.
Some develop rituals to help them build momentum. Truant brews and drinks coffee as soon as he wakes up every morning, but says it's "more for the ritual than the caffeine." David Wright listens to specific kinds of music to help him frame his mood to align with different types of writing.
Time management is also an individual decision based on how each writer functions best. Truant wakes up early each morning to write, allowing him some quiet time while his family is still asleep. Platt plans his schedule based on when his children are in school. He also prefers to write in multiple, 90-minute, scheduled blocks. "After 90 minutes," Platt says, "the quality of my writing begins to decline and my typos increase." However, he recognizes that other writers, such as Stephen King, prefer to do one long block of writing per day.
David Wright's typical day is very different. "I wake up around two o'clock in the afternoon," he says, "and take about half an hour to drag myself out of bed. I check email for about nine hours, watch Netflix and play video games for awhile, and then eventually I'll get to writing." Although a clear exaggeration, Wright's point is that the only thing consistent about his writing is that he gets it done, averaging between 3,500 and 6,000 words per day.
"Dave is the most productive person I've ever seen without a schedule," says co-author Platt.
"As long as he's getting the words out," says Truant, "who cares?"
Catch the Self Publishing Podcast on iTunes and Youtube.