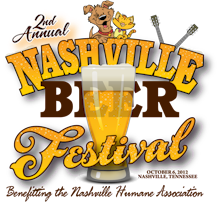 Nashville, TN (PRWEB) September 27, 2012
For a lot of people, October truly marks the beginning of fall. The temperature drops, the leaves begin to change and people slowly make the transition from t-shirts to sweaters. In Music City, the arrival of October holds much more fun and frivolity. The first Saturday in October, the Nashville craft beer community celebrates the season with a craft beer festival. As if Oktoberfest was not enough for Nashville's many beer enthusiasts, they now have another excuse to celebrate the fine craft of beer brewing at the 2nd Nashville Beer Festival. The celebration on Saturday, October 6 is at Public Square Park downtown, 1 to 5 p.m. Attendees will have the opportunity to sample from over 120 craft beers, watch brew demonstrations, enjoy some delicious food and other activities.
Tickets for the festival are on sale now at the Nashville Beer Festival website and are going fast. The $35 ticket includes: unlimited tastings of more than 120 craft beers, a souvenir beer sampling glass, music, games and more. A fine selection of festival fare will also be available for purchase. Festival goers can also purchase tickets at the event for $45; however, event organizers suggest buying tickets as soon as possible as numbers are limited. There is also select number of discount tickets available for groups who would like to promote the event. More information on promotional tickets can be found at the Nashville Beer Festival ticket webpage.
The event has already garnered some national attention and sparked the interest of other craft beer communities outside of the mid-south region. Langunitas, which is based out of Northern Ca. and Henry Weinhard's from Oregon, will both be participating in the festival for the first time. Both of these craft brews are eventually planning to expand into the Nashville market. Of the 120 beers featured in this year's festival, many of breweries are using the event as a testing ground for their product.
The goal of the Nashville Beer Festival is to create a community driven event focused on the development of the Nashville craft beer industry. Already there are 20 different civic, social and networking groups involved in grassroots marketing and promotional efforts for the festival. The Nashville Beer Festival is also a charity event, with some proceeds benefiting the Nashville Humane Association and their mission protecting and serving animals, finding a happy home for every pet, and promoting the humane treatment of animals.
For more information about the 2nd Annual Nashville Beer Festival, becoming a vendor or volunteer opportunities please email info(at)nashvillebeerfestival(dot)com.