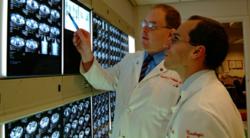 Philadelphia, PA (PRWEB) September 28, 2012
Contrast-enhanced ultrasound was found to better detect high-grade prostate cancer than conventional methods, making it a more appropriate approach for screening clinically important cancers and monitoring low-risk ones with less biopsies, researchers from Thomas Jefferson University and Hospitals conclude in a phase III study published online in September in the Journal of Urology.
Findings from the randomized, double-blind trial revealed the technique, which uses microbubbles to measure change in blood flow, found almost three times as many higher grade cancers using half as many needle biopsies compared to systematic biopsy methods.
"Today, a physician may sample 12 to 18 tissue cores from the prostate in order to help diagnose a patient. But with contrast-enhanced, that number drops to six or even less," says lead author Ethan Halpern, M.D., co-director of the Prostate Diagnostic Center Thomas Jefferson University Hospital and professor of Radiology and Urology at Thomas Jefferson University. "So it's less invasive, and a more effective guidance tool. We've found that with contrast-enhanced ultrasound, we are much more likely to detect cancers on the image, and in this case, the higher grades."
Results from the clinical trial of 311 men, 118 of which had positive prostate cancer biopsies, revealed that targeted biopsies using contrast-enhanced ultrasound with microbubbles detected significantly more higher volume/grade prostate cancers (clinically significant) in men (55 percent) compared to a conventional prostate biopsy technique (17 percent).
Ultrasound imaging of the prostate is commonly used to assess the size of the gland and for needle placement during systematic biopsy, but is limited by difficulty in distinguishing benign from malignant tissue. What's makes contrast-enhanced ultrasound different is the microbubble contrast agents, tiny bubbles of gas contained within a supporting shell that are injected into the patient to help better measure changes in blood flow.
Prostate cancer, like many cancers, harbors abnormal blood vessel flow. This change in flow in the prostate can be measured by ultrasound; the microbubbles enhance the reflection of those ultrasound waves.
The technique has been used with success in Europe for some time, but researchers at Jefferson say it's ready for primetime in the United States. The U.S. Food and Drug Administration hasn't approved it for use for prostate screening, although it is used in other imaging applications.
In the clinical trial, researchers performed both targeted biopsies using contrast-enhanced ultrasound with flash replenishment maximum intensity projection MicroFlow Imaging on all patients, and a systematic 12-core biopsy protocol for comparison. The mean age of the patients was 62 years and a PSA level of 6.5ng/mL.
"Our ultimate goal is to perform a limited number of targeted biopsies and leave the rest of the prostate alone," says Dr. Halpern. "This will provide a safer, more cost-effective approach to diagnosing prostate cancer."
Subjects were also randomized to pretreatment with dutasteride, a drug used to treat an enlarged prostate, and placebo; however, no was significant difference in the proportion of positive biopsies for prostate cancer.
Dr. Halpern, who is principal investigator on the four-year, National Cancer Institute-supported trial, has been developing and refining techniques to enhance targeted biopsy of the prostate for more than a decade, along with his colleagues at Jefferson, Edouard J. Trabulsi, M.D., co-director of the Prostate Diagnostic Center and associate professor of urology, Flemming Forsberg, Ph.D., a professor of Radiology, Barry Goldberg, M.D., director of the Division of Diagnostic Ultrasound, and Leonard Gomella, M.D., F.A.C.S., director for Clinical Affairs at the Kimmel Cancer Center at Jefferson, and Chair of the Department of Urology. Peter A. McCue, M.D., a professor in the Department of Pathology, Anatomy and Cell Biology at Jefferson, was also part of this study.
Prostate cancer often grows very slowly, and some men, particularly older men or men who have other serious health problems, may never need treatment. Instead they may benefit from active surveillance where their cancers are carefully monitored with various tests to determine if the cancer is beginning to be more aggressive.
"It stands to reason that the cost-benefit ratio for prostate cancer screening will improve if PSA screening is followed by a limited targeted biopsy based on contrast-enhanced ultrasound," said Dr. Trabulsi. "This also means contrast-enhanced ultrasound can act as another monitoring tool for active surveillance in low-grade cancer patients, potentially preventing unwarranted treatments."
This study was supported by the National Cancer Institute grant R01-CA118003.
###
Thomas Jefferson University Hospitals (TJUH) are dedicated to excellence in patient care, patient safety and the quality of the healthcare experience. Consistently ranked by U.S. News & World Report among the nation's top hospitals, Thomas Jefferson University Hospital, established in 1825, has over 900 licensed acute care beds with major programs in a wide range of clinical specialties. TJUH is one of the few hospitals in the U.S. that is both a Level 1 Trauma Center and a federally-designated regional spinal cord injury center. TJUH patient care facilities include Jefferson Hospital for Neuroscience, the region's only dedicated hospital for neuroscience, Methodist Hospital in South Philadelphia, and additional patient care facilities throughout Pennsylvania and New Jersey. TJUH partners with its education affiliate, Thomas Jefferson University.