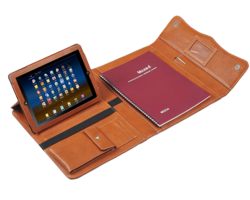 New York, NY (PRWEB) September 28, 2012
Does a certain type of handle make carrying a computer more comfortable? Now, consumers can have whatever they want. Would an added pocket make it easier to keep business necessities close at hand? Xiao Zhi allows people to decide. In fact, with the aid of the design professionals at Xiao Zhi, consumers can have just about any type of case design they can imagine, which means using a tablet or laptop on the road, at work, at home or at school just became a lot more convenient.
Xiao Zhi's custom design process couldn't be simpler: Customers fill out a contact form with as many details as possible. Choose the types of devices and accessories you need to carry, the style they're looking for – even the color. If consumers have photos of design features they'd like to incorporate, they can include those, too.
Once the form is submitted, Xiao Zhi will assign the customer's own designer to help navigate the case creation process from start to finish, and provide them with a detailed design sketch of the customer's case or cover before construction. Better still, there's no charge for the consultation or the sketch. After the design is confirmed, Xiao Zhi will create a custom, one-of-a-kind case at a very competitive price.
Production and shipping usually take about a week – which means the customer can have a custom-designed case in hand just about as quickly as a mass-produced case from a lot of online retailers.
Xiao Zhi is a world leader in custom electronics case and cover design, and its design and production teams are experienced in creating cases that suit every customer's unique needs. Whether a customer wants to add a simple detail like a handle or pocket, or design a new case from the ground up, Xiao Zhi can help anyone create a case or cover specifically to a unique customer's unique requirements – one that will make working a real pleasure.
For more information about Xiao Zhi's one-of-a-kind case or cover designs, visit Xiao Zhi Custom Gadget Cases.