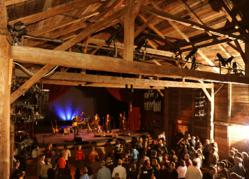 Vienna, Virginia (PRWEB) September 27, 2012
Singer/songwriter and guitarist Ben Taylor returns to The Barns stage following his most recent appearance in 2006. The son of music legends James Taylor and Carly Simon, young Taylor has crafted his own artistic path by developing a unique sound that combines elements from the folk, rock, funk, bluegrass, and pop genres. Since the late '90s, he has recorded six studio albums and a series of EPs engaging folk-rock followers across the nation and abroad. Taylor's latest album, Listening (2012), surfaces as yet another successful deviation from his parents' popular styles and into a particular musical persona. His retrospective lyrics speak of intimate life experiences and struggles, all highlighted by an expressive and sublime voice. Taylor is also an actor, having appeared in the TV shows American Dreams and UK's Always and Everyone.
Video: Ben Taylor – "Nothing I Can Do"
Show Details:
Ben Taylor
Special Guest:
Grace Weber
Wednesday, October 10 at 8 pm
$20
Grace Weber
Milwaukee native Grace Weber brings her soul-pop vocals and youthful charm to The Barns for the first time. A newcomer to the music industry, the former NYU music student turned independent singer/songwriter performs an eclectic mix of gospel, jazz, and acoustic pop with a delightfully powerful voice. Weber's debut album, Hope & Heart, was released in September of 2011 and includes 12 original tracks. The album reached the top ten spot on the iTunes Singer/Songwriter charts in both the United States and Japan. Consequently, Weber has been touring the country as the opening act for singers Gavin DeGraw and Ben Taylor.
Video: Grace Weber – "Everything To Me"
Chamber Music Society of Lincoln Center
Founder's Day
The Discovery Series
Friday, October 12 at 8 pm
$40
Members of the distinguished Chamber Music Society of Lincoln Center (CMS) arrive for a special evening at The Barns in celebration of Wolf Trap's founder, Catherine Filene Shouse. The highly-regarded musicians will perform a full recital featuring renowned chamber works by composers of the Romantic era. The program highlights standard repertoire for strings and wind instruments, including selections from Bruch's "Eight Pieces for Clarinet, Viola and Piano, Op. 83"; Brahms's "Horn Trio in E-flat Major, Op. 40"; and Dohnányi's "Sextet in C Major for Piano, Clarinet, Horn, Violin, Viola, and Cello, Op. 37." As an integral part of the Lincoln Center for the Performing Arts' constituency, CMS is committed to presenting the finest chamber music performances of repertoire that spans over three centuries, as well as new commissions by living composers. It also offers dynamic education and recording/broadcast programs, making chamber music accessible to a wider audience at national and international levels.
# # #
Tickets can be purchased by calling 1(877)WOLFTRAP; or online at http://www.wolftrap.org
For more information, call The Barns at Wolf Trap at (703) 938-2404 or our general information line at (703) 255-1900.