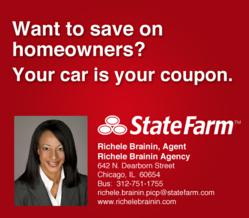 Chicago, IL (PRWEB) September 29, 2012
The Five Star Professional award recipients will be featured in the Chicago Magazine's October issue. Awards are presented to wealth managers, real estate agents, mortgage professionals and home/auto insurance professionals after the magazine has conducted consumer research to determine who best provides quality services to clients.
Additionally, this past August, Richele Brainin State Farm Insurance Agency was selected for the 2012 Best of Chicago Awards in the insurance category by the Chicago Award Program committee. The Chicago Award Program recognizes small businesses throughout the Chicago area that have achieved exceptional marketing success in servicing their communities.
Richele attended Illinois State University in Bloomington, Illinois on a track scholarship where she was the team captain her junior year. She began her career with State Farm as a Claim Specialist covering Hurricanes Andrew and Hugo, and major fires and earthquakes in California. She later applied this experience to her agency, providing her clients with valuable information on protecting their property from costly claims. Her team has a combined total of 30 years in the insurance industry and specializes in insuring homes and condos, as well as auto and life insurance.
Richele is married and mother to two children. Her son recently involved the entire family in donating to the national non-profit, Soles4Souls, which collects shoes and donates them to people in need regardless of race, religion or class. Soles4Souls partners with the NALA, a local business association in which the Brainin Agency is a member.
Richele's Agency is located at 642 N. Dearborn in Chicago's River North neighborhood, next door to the Excalibur Nightclub and around the corner from Chicago's famous restaurants, Hard Rock Café and the Rock-N-Roll McDonald's, at Ontario and Dearborn Streets. The agency provides a bilingual staff for Spanish speaking clients.
To learn more about her agency or get a free quote, please visit http://www.richelebrainin.com or call 312-751-1755.
About Richele Brainin Insurance Agency Inc.-State Farm
Richele Brainin Insurance Agency Inc. has been serving the Chicago area for over six years. State Farm's mission is to help people manage the risks of everyday life, recover from the unexpected and realize their dreams. State Farm offers over 96 insurance and banking products to its customers including Auto, Home, Life and Business Insurance.
About NALA
The NALA (National Association of Local Advertisers), a small business association, is for local business owners offering new online advertising and small business marketing tools, great business benefits, education and money-saving programs, as well as charity program.
Contact
Richele Brainin Insurance Agency Inc.
State Farm Insurance Company
642 N. Dearborn
Chicago, IL
60611
312-751-1755
http://www.richelebrainin.com
Richele Brainin Facebook