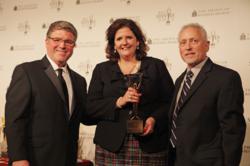 This award is the result of an incredible team effort in which everyone played an integral role. We're all elated to be recognized by our peers and to partner with Bell Helicopter, said GES' Executive Creative Director, Frank Laudo.
Las Vegas, NV (PRWEB) September 27, 2012
Global Experience Specialists (GES), a leading provider of exhibitions, events and entertainment experiences, and Bell Helicopter have been recognized by American Business Awards winning a gold Stevie award for Marketing Campaign of the Year - Aerospace and Defense. The winning project was for Bell Helicopter's Bell 525 Relentless integrated marketing campaign and reveal at HELI-EXPO 2012.
"It's such an honor to win a gold Stevie for the Bell Helicopter campaign," said GES Executive Creative Director Frank Laudo. "This award is the result of an incredible team effort in which everyone played an integral role. We're all elated to be recognized by our peers and to partner with Bell Helicopter."
The American Business Awards (ABA) or "Stevies" are the nation's premier business awards program. More than 3,000 nominations from organizations of all sizes and in virtually every industry were submitted this year for consideration in a wide range of categories.
"All of us at Bell helicopter are honored to receive such a prestigious award and recognition," said Kathleen Searle, director of brand and communications. "The Bell 525 Relentless is truly in a class of its own; our goal was to launch it in an equally notable way. With the support of three incredible partners – GES, The Richards Group and the Cirlot Agency, we launched an integrated marketing campaign that kept the aerospace and defense industry, and even our employees, guessing until the product unveil."
Aerospace leader, Bell Helicopter, has worked with GES for more than thirty years and this year was particularly important because HELI-EXPO®, the largest trade show dedicated to the international helicopter community, was in held in Bell Helicopter's backyard of Dallas. From the first invitation through the beginning of the event, customers and visitors were intrigued with teaser advertising telling them that "something big" would be happening at this year's HELI-EXPO.
GES extended the teaser campaign with strategically-placed messages about Bell Helicopter's "big news" along the path visitors would follow to the show. From Duratrans signage in airport baggage claims to static clings on guestroom mirrors, everyone was reminded that there was something "big" coming from Bell that could not be missed. Nearly the entire one-million square-foot Dallas Convention Center became a canvas for Bell Helicopter. Walls, windows and the Center's most distinctive feature – its central grand staircase – were labeled with the Bell 525 Relentless color scheme and icon.
The official unveiling of the new Bell 525 Relentless was one of the most highly attended product launches of this or any show.
About GES
Global Experience Specialists, Inc. (GES), a Viad Corp (NYSE: VVI) company, is a leading marketing agency that produces exhibitions, events, exhibits and retail environments. GES provides a wide range of services, including turn-key official show services, cutting-edge creative and design, marketing and measurement services—all with an unrivaled global reach. GES partners with leading shows and brands, including the International CES, Spring Fair Birmingham, International Woodworking Fair, CONEXPO-CON/AGG and IFPE, Bell Helicopter, Genzyme, L'Oreal, Warner Bros., and Simon Property Group. GES' National Servicenter℠ has been recognized with certification under the J.D. Power and Associates Certified Call Center Program℠ for the past four years, and for the third year in a row, Ad Age has named GES as one of the "World's 50 Largest Agency Companies." For more information, visit ges.com or the GES blog at defyingconvention.ges.com.