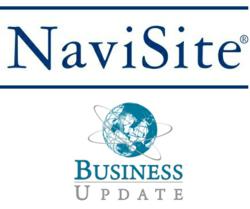 Jupiter, Florida –
(PRWEB) September 29, 2012 -- DMG Productions announced today, they will feature NaviSite in an upcoming episode of Business Update.
NaviSite is a leading international provider of a full suite of reliable and scalable managed services, including applications, industy-leading enterprise hosting, and managed cloud services. NaviSite partners with enterprise customers to simplify the IT complexities of their environments.
"Letting a specialist manage our mission-critical applications means we don't have to spend our time worrying about a data center at our headquarters in Maryland," said Larry Campbell, Vice President of Information Management and Technology for DAI, a NaviSite customer and a global organization that sits on the frontlines of developing countries helping them succeed. "Instead our IT team can be in the field actively supporting our customers."
This particular episode will focus on the dynamic, fast-paced information technology industry, and the rapid changes that are impacting every facet of our lives today. From cross-platform software development to enterprise-class cloud services, Business Update will show viewers an unprescedented view of advanced IT.
"Technology evolves quickly. We are in the middle of another technological revolution enabled by the internet, virtualization, bandwidth, and dramatic advancements in the capabilities of the underlying computing infrastructure. It's the combination of these innovations that has accelerated the evolution of cloud computing for both enterprises and consumers beyond anything we've seen before," said Brooks Borcherding, President, NaviSite. "NaviSite has been at the forefront of this technology and growth and we're extremely excited to have been chosen to participate in Business Update to discuss how these changes are influencing new advancements in our society."
"NaviSite is a leader in a field that they are, in a way, creating," said Mike Stratos, producer for the show. "I look forward to giving Business Update viewers a behind-the-scenes look at one of the most innovative companies in the field today."
About Business Update:
Business Update is a corporate-America type series covering the world of business, finance, and technology. From Main Street to Wall Street, our award-winning producers take an in-depth look into some of the hottest topics and current trends impacting our society.
For more information on Business Update, visit http://www.dmgproductions.org/business-update/
About NaviSite:
NaviSite, Inc., a Time Warner Cable Company, is a leading international provider of enterprise-class, cloud-enabled hosting, managed applications and services. NaviSite provides a full suite of reliable and scalable managed services, including Application Services, industry-leading Enterprise Hosting, and Managed Cloud Services for organizations looking to outsource IT infrastructures and helps lower their capital and operational costs. Enterprise customers depend on NaviSite for customized solutions, delivered through a global footprint of state-of-the-art data centers.
For more information about NaviSite's services, please visit http://www.navisite.com or call 978-682-8300.
Media Contact:
Mike Stratos
Business Update, Producer
866.496.4065 x801