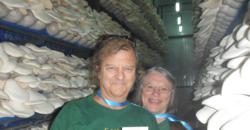 We are witnessing and participating in a surge of mushroom consumption. Right now, it's primarily about food. In the near future, it will also be about health and healing.
Perkins, OK (PRWEB) September 28, 2012
Ordinary white button mushrooms are used to treat cancer and metabolic disease at the City of Hope Hospital in Los Angeles. Lion's Mane mushroom, available in growing kits, supplements, and growing wild in the US, is proving an effective treatment for dementia and Alzheimer's Disease. Shiitake mushrooms contain no natural Vitamin D2, but when exposed to sunlight with the gills down develop 11,000 IU/100g, with the gills up: 46,000 IU/100g.
These were only a few of the discoveries and research reports on nutritional and medicinal properties of mushrooms presented at the ISMS Conference in Beijing, August 26-30.
"The conference was a major confirmation of the importance of researching, growing, and eating mushrooms," said Doug Williams, who started growing shiitakes in the mid-1980s. "We learned a great deal, especially about the nutritional, health and medicinal characteristics of different types of mushrooms. There is solid research that indicates significant health and healing benefits from shiitake, maitake, oyster mushrooms, reishi mushrooms, the fungus cordyceps and even our regular white button mushrooms. Other lesser-known species, like lion's mane and enoki, have proven effective for specific conditions. We learned that 90% of all mushrooms researched contain anti-inflammatory and anti-tumor properties."
Sandra Williams, Ph.D., a proponent of mushrooms with potential for people on the Autism Spectrum, explained, "The health benefits of mushrooms have been known for thousands of years in Traditional Chinese Medicine. In Japan, a combination of shiitake and reishi concentrates are the official first line of treatment for cancers and AIDS. These two mushrooms are known to improve immune function and have long been recognized for their anti-viral and anti-tumor properties.
"Veterinarians in the US treat cancer patients with shiitake-reishi injections, and with a good rate of success. But for humans in the US, it's not yet been approved; even though the Japanese have the highest cure rate for all types of cancers."
"I knew about the health benefits of shiitakes when I started growing over 25 years ago," Doug continued, "but I didn't know how extensive the research has been over the last 20 years. Shiitakes are ancient in their medicinal uses, and they are becoming the mushroom of the future."
Doug said, "We went to learn and to network with people who might be good connections for our projects: to promote mushroom production as a tool for economic development, especially for women in economic crisis; and to promote mushroom consumption as a source of nutrition, health and healing."
Following the conference, the Williams' participated in a tour of mushroom operations in the Yunnan Province, China; foraged in Shangri-La, a major source of wild medicinal and edible mushrooms; and traveled to "The Mushroom City of India," Solan in Himachal Pradesh. There they visited for several days with Vikas Benal, owner of Vikas Mushrooms, one of India's most highly respected mushroom producers, growing white button and oyster mushrooms. In the future, Vikas Mushrooms, like Lost Creek Mushroom Farm, will be growing "the mushroom of the future," shiitakes.