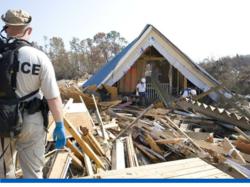 Statisticians will quibble over the mutually exclusive nature of this statement, but you have a better chance of being struck by lightning while being attacked by a shark than you do of dying in a K-12 school fire in the US.
Corvallis, Ore (PRWEB) September 27, 2012
Professionals in their early to mid-career can test their attitudes towards change and gauge their ability to capture career opportunities through a free online quiz (http://ajourneyofhope.info/quiz/) developed by preparedness author and personal leadership coach Anthony Veltri.
Veltri, a former Homeland Security branch chief and the author of a soon-to-be released book about adapting to changes and challenges in your career, has adapted his experience and education in emergency response and disaster management to the preparedness and personal leadership fields. The quiz developed by Veltri, uses a color-coded "tagging" system similar to that used by medical professionals during a mass casualty event. The "Unorthodox Survival Quiz" will help people identify their attitudes towards change and how they react to everyday challenges.
"There is something called 'normalcy bias' where, if there is a fire drill in a mall, everyone looks around to see what other people are doing versus if there is a fire drill in a K-12 school, where everyone goes towards the door because they know what they are supposed to do," said Veltri. "What the quiz is designed to do is to see how much you are influenced by normalcy bias."
After the 16 questions are answered, participants are assigned a tag color based on their responses. A green tag indicates that a person has the ability to adapt and change rapidly. A black tag means that while someone might be aware of impending change, they are not taking the appropriate actions in order to prepare themselves for the future. Such inability and unwillingness to change could have dire consequences for people in terms of job changes and losses.
"People who panic during an emergency don't survive, but on the other end of the spectrum, those who wait to see what everybody else is doing or they think everything is going to be fine because everything has been fine in the past – meaning they are highly influenced by normalcy bias – they also get impacted," said Veltri. "You want to be in that sweet spot in the middle, where you're making decisions not based on what other people are doing, but you are actively taking in information and evaluating it and saying 'I need to make a decision regardless, I am going to make a decision for myself and I am not going to wait and let that opportunity pass me by.'"
Anthony Veltri is a speaker, author and former branch chief at the Department of Homeland Security. He has extensive experience in disaster mitigation and response which includes training in wildfire suppression and emergency medical treatment. His forthcoming book, "Undispensable" helps professionals avoid becoming a "black tag" from the perspective of their career, success and happiness. Visit http://ajourneyofhope.info/quiz/ to take the quiz.