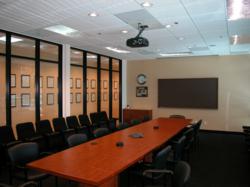 Achieving an ideal office space solution for your company can only be done if you start with what your staff and clients need and not what your ego desires
(PRWEB) September 28, 2012
Your Office Agent have brought two very innovative solutions to the market to help companies solve this Agility issue. The first is to improve internal efficiencies. Your Office Agent will start with an analysis of how many of the desks are being used 100% of the time. Then this is followed with a review of who needs to be in the office or can at home and for what percentage of time. Finally an assessment will be made regarding all the potential work style efficiencies possible to lower the cost of the facility headcount and improve employee efficiency. Many times this type of review does not bring about radical change on day but but it sets a course for the future and savings can be between 20% and 60% of property costs depending on the work life balance achieved.
The second solution that Your Office Agent have introduced is to outsource the facility management of some of their clients office space. This is both to offload excess space that customers have and also help companies find new space using a third party management company so the lease can be molded to the company's needs. Your Office Agent have access to many managed space operators who are experts in this area and can take the head lease, assume responsibility for all related facility costs, remove the liability from company balance sheets and do this for an all inclusive cost which can be very competitive.
As spokesperson, Scott Warner said, what makes the Your Office Agent Agility plan work so effectively is that the solution is found for the workspace problem through the employees first by measuring how any change will effect the staff members efficiency in a positive or negative way and combining this with a desire to give the employee the best work life balance possible. The solution is so refreshing because it is the opposite to what most commercial brokers will do, as our success being measured by better efficiencies and happier staff rather than more space.
Your Office Agent is an innovative corporate real estate and workplace consultancy who provide business people with expert advice on reducing costs in their own workspace and also, when looking for executive suites and business meeting rooms anywhere in the world, there is no one else able to offer better rates than they can. Their workplace expertise ranges from a one office location, a portfolio of offices worldwide, virtual, part-time, on-demand, or mobile officing options, Your Office Agent works to match clients with the best workplace solution for todays needs, while anticipating and planning for changing needs in the future. Business changes now faster than ever before, so "the ideal office" is one that's able to grow and contract in-step with business.
To speak with Scott or one of the Your Office Agent team about a free workspace reduction analysis or free advice on how to find managed office space anywhere in the world call 800 600 0881 or email at contact(at)yourofficeagent(dot)com. Information can also be found on their website at http://www.yourofficeagent.com